Best Buy Canada: $200 Off 13" MacBook Air - Now $1000 & Extra $50 Off For Students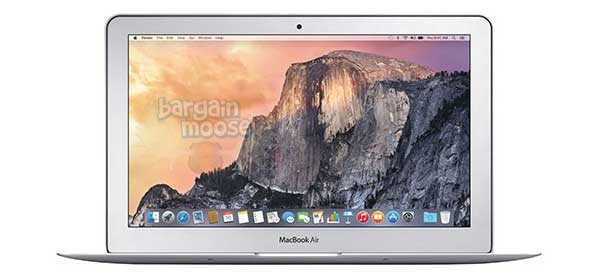 Whether you're a student or not, if you have been wanting a lightweight laptop, then here's a great deal at Best Buy: save $200 off the 13" dual-core MacBook Pro Air, now on sale for just $999.99 (reg. $1199.99). If you're a student, then you could also save an extra $50.
At 13.3", the MacBook Air has a Dual-Core Intel Core i5 processor, 1.6GHz speed and 128GB of storage with a 4GB RAM size.
This MacBook's best and most noteworthy feature is arguable its weight. It's only 1.35kg, whereas if you compare it to a 13" MacBook Pro with retina display, that one is 1.58kg. That may not seem like much of a difference but after carrying around a couple of different laptops around campus a couple of years ago, I have come to realize that every gram counts when it comes to laptop weight and the general contents of your schoolbag in general. In between all the textbooks and everything else, any bag can very quickly feel like you're carrying a ton of bricks.
Even the reviews are convincing enough to make me want one for myself:
This computer never lags or crashes. The graphics are great and the backlit keyboard is very useful. The long battery life is also very helpful.
And another one:
This Mac met every one of my needs. It has a very good screen even though it's not a retina, a fantastic keyboard beautifully backlit with an ambient light sensor and ridiculous battery life.
Overall on Best Buy's site, it has 4.7/5 stars and a total of 12 reviews. Many of the reviewers have commented on the amazing battery life and according to Best Buy's product description, it's of up to 12 hours long. This of course depends on how intensively you plan on using it and if you have many applications running at the same time, but it's still pretty good!
To save the additional $50 if you're a student, then you need to e-mail Best Buy after completing your purchase as per the instructions in the Apple Student Discount Program.
Shipping is free for this MacBook Air as well. By purchasing it, you will also be able to take advantage of the following 2 Best Buy offers: $25 off Microsoft office and 15% off any Microsoft keyboard or mouse.
(Expiry: 10th September 2015)