Best Buy: 75% Off iHome iW2 Wireless Speaker ONLY $49.99 *HOT* (EXPIRED)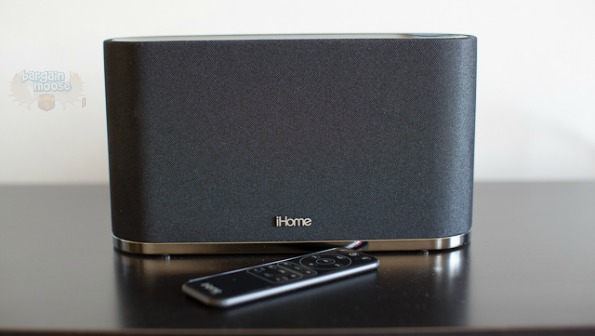 Oh holy mother of pearl I am in love! Best Buy Canada just opened up their Boxing Day sale. Make sure to get your hands on the iHome iW2 Wireless Speaker (IW2SVC) for just $49.99, originally $199.99! You save $150, which is just breathtaking and you will also receive free shipping.
I do not need a new wireless speaker: I just bought the Sony SRS-X5 and I own the more portable Carbon Audio Zooka. However, need and want often do not align. I want this beautiful wireless speaker so badly. First, this is different from anything I own, as it does not operate via Bluetooth. Rather, the iHome iW2 uses Airplay to transmit your music and more over your home Wi-Fi.
The primary benefit of using your Wi-Fi connection over Blutooth is a better connection between the speaker and your MP3 player (or phone) wherever you are in the house. Most Bluetooth speakers have a range of 10 meters, or 30-feet. With a Wi-fi speaker, you can stream music from any part of your house that your Wi-Fi connection reaches. There will be no music stuttering, breaking up, or suddenly stopping because you went a couple feet too far or popped into the bedroom.
While this wireless iHome speaker is designed to stay at home and meld seamlessly with your home Wi-Fi network, it does come with a built-in rechargeable lithium-ion battery. This gives you the option of moving the iW2 speaker into the kitchen, the bathroom, or the bedroom at your convenience without having to bring the plug. The speaker's battery will last up to five-hours unplugged.
The iHome iW2 will also charge your iPhone, iPod or iPad via a USB docking station and comes with a USB sync cable. Furthermore, there is an iOS app designed to work with the speaker and your iOS devices to create the best sound possible. According to reviews, you can also plug an android phone in to the base.
This unit is an absolute steal at this price. Amazon currently has the black model on sale for $136.98 and you just do not see AirPlay wireless speakers for the $50 range.
As this speaker costs over $25, it will ship for free. Enjoy this deal and many other great offers during the Best Buy Boxing Day sale.