Bargainmoose Contest: NCIX Christmas Gifts – Win $$$ in NCIX.ca Gift Cards! (Day 3: $75 Prize - CLOSED)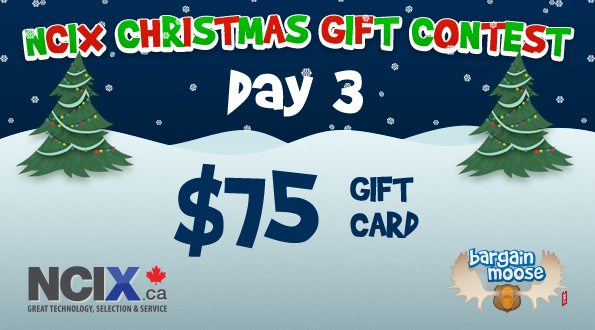 *** Contest now closed, winner was Mooser Cosimo! ***
We're moving on to day 3 of our NCIX Christmas contest now, in which we are giving away over a thousand dollars in NCIX gift cards to spend at their online store! The prize on day 1 was a $25 gift card, day 2 offered a $50 gift card. Today on day 3, the prize value is still growing, with a $75 NCIX gift card available for one lucky Mooser! Over the coming days, the prize value will continue to increase, so be sure to check here often.
As I have mentioned a few times, if you're looking for deals on electronics or computers, NCIX.ca is one of the top stores in Canada to do so. Today, they have started a 12 days of Boxing week deals promotion in which they're offering one hot item each day. Today:
And in their current reindeer deals weekend sale, there are quite a lot of deals to browse through. Here are a few examples that jump out:
(For all the above, shipping depends what you are buying)
Some more info about NCIX for your reference:
Now, on to day 3 of the NCIX Christmas gift contest!
Prize today: $75 NCIX gift card
How to enter day 3 of the NCIX contest:
Answer this question in the comments below:
What would be the ultimate NCIX gift for a dad?
Have a browse of the site and choose an item that you think would be good! Leave the link and the item price in your comment.
Bonus contest entries:
Leave a link to this NCIX contest on Twitter, make sure you put @bargainmoose in your tweet
Re-pin this contest on to your Pinterest, and follow us there too
Post a link to our NCIX contest on your Facebook wall and share with your friends, make sure you like Bargainmoose
Come back!
Tomorrow, the NCIX prize value will be increasing again – come back and join us!
Rules:
Canadian entrants only. One type of entry per household. NCIX prizes limited to one per household. Ends 14th December 2013, 11.59PM EST. No purchase necessary. Odds of winning depend on the number of eligible entries received. Duplicate, incomplete or illegible entries will be disqualified.