Bargainmoose Contest: NCIX Christmas Gifts – Win $$$ in NCIX.ca Gift Cards! (Day 1: $25 Prize - CLOSED)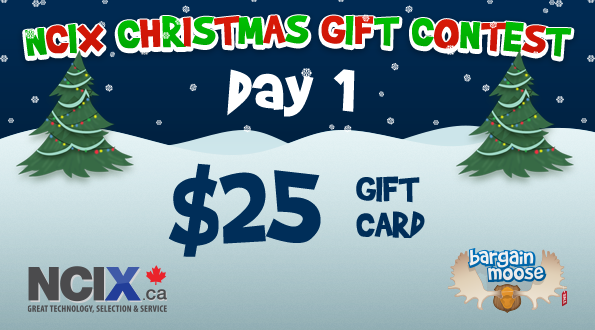 *** Contest now closed, winner was Mooser Diane! ***
We're pulling out all the stops with some fantastic contests this month on Bargainmoose, offering big value gifts from some of the top stores in Canada. Today, we're starting a contest in which we will be giving away over a thousands dollars in gift vouchers to spend at popular electronics retailer, NCIX.ca!
For those of you who are not too familiar with NCIX Canada, we've mentioned them a few times here on Bargainmoose when they have had hot deals on offer. They sell a huge range of electronics, computers and computer components. And right now, they're running a "super santa sale event" promotion, which you might want to check out if you are looking for anything. Examples:
Some more info:
For exclusive NCIX contests and promotions on Facebook
For the latest NCIX tech news and product reviews on Youtube
Win a $100 NCIX Gift Card every day in December if you subscribe to the newsletter
Gift ideas for everybody, under $50, under $100 and under $200
Now, on to the contest!
Prize today: $25 NCIX gift card
How to enter today's contest:
Answer this question in the comments below.
What would be the ultimate NCIX gift for a boy?
Have a browse of the site and choose an item! Leave the link and the item price in your comment.
Bonus contest entries:
Leave a link to this NCIX contest on Twitter, make sure you put @bargainmoose in your tweet
Re-pin this contest on to your Pinterest, and follow us there too
Post a link to our NCIX contest on your Facebook wall and share with your friends, make sure you like Bargainmoose
Come back!
Come back to Bargainmoose every day! This NCIX contest will be running for seven days and the prizes will be increasing in value every day. Today, it's only a $25 gift card… but tomorrows will be a larger prize, and the next days will be larger again! Whoop!
Rules:
Canadian entrants only. One type of entry per household. NCIX prizes limited to one per household. Ends 12th December 2013, 11.59PM EST. No purchase necessary. Odds of winning depend on the number of eligible entries received. Duplicate, incomplete or illegible entries will be disqualified.