Azio Levetron GM2000 Gaming Mouse Only $17.99 & Free Shipping @ NCIX Canada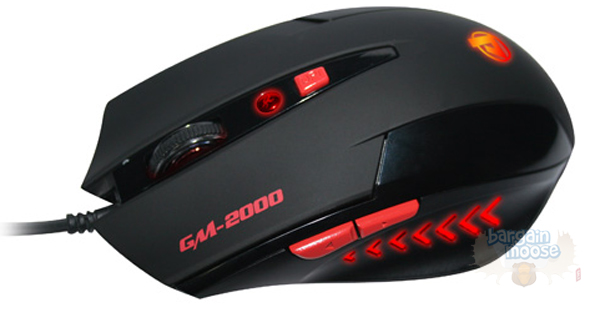 You're going to have to move fast if you want to grab this deal for the Azio Levetron GM200 Gaming Mouse! NCIX.com is offering this top of the line gaming mouse for $17.99 (Regular $49.99. That's $32 off!) with FREE ground shipping.
Now other sites are offering the same mouse for $19.99; the only difference is you have to pay for shipping, whereas with NCIX.com, the offer is slightly cheaper at $17.99 and the shipping is for free. The free ground shipping is what really helps this deal be such a steal. For just $17.99 you're getting a top of the line gaming mouse for a fraction of the cost.
The Azio Levetron GM200 Gaming Mouse is the Ferrari of the gaming mouse world. It has six buttons. That's right. Six buttons. Including your standard right and left click buttons, a mouse wheel, the innovative DPI button, as well as a forward and a back button for added web surfing/gaming convenience. The DPI button allows the user to switch from 800-, 1600-, and 2000 DPI on the fly with a simple click of the button. Now for those of you who aren't familiar with DPI, don't worry neither were we, DPI stands for Dots Per Inch, which is a measurement of mouse sensitivity. The higher the DPI allows the gamer to move the mouse cursor further on the screen with less mouse movement. It also allows the user greater ability to pinpoint places on the screen more accurately.
Now these features won't necessarily enhance your ability to enjoy Wikipedia or Facebook but for the avid gamer these perks allow for greater control and a higher and more competitive level of game play. Then again, this mouse could help increase the speed and ease of clicking on the great deals here on Barginmoose. There's only one way to find out.
The Azio Levetron GM200 Gaming Mouse has a really high positive review and customer satisfaction score. However, the mouse's ergonomic design was crafted for the right-handed user in mind, so please be aware that this mouse is NOT lefty friendly. Haters gonna hate. But for those who can enjoy this mouse, should enjoy this mouse and click quick to make sure you can grab one before they're gone.
(Expiry unknown)