Amazon Canada: Summer Clearance 5 Games for $25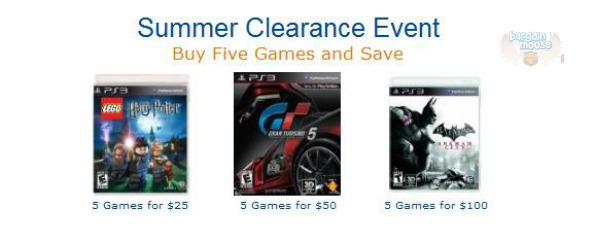 Amazon Canada has some awesome deals on right now for all of those gamers out there.  Buy 5 games for either $25, $50 or $100.
Here are the deals you can get:
They have a huge variety in each of these categories to choose from.  They also have a wide variety of the different games for different systems including PS3, Xbox 360, Wii and more.  This is the perfect time to stock up on games for Christmas and birthdays.  I also like the fact that you can buy 5 different games from the same category instead of being limited to the same game or system.  For example, you could get this Wii Fitness Fun for a friend, this Xbox 360 Lego Rockband for your son, this Wii Tangled for you daughter and 2 other games as gifts for Christmas all for just $25.  It is hard to find 1 gift for $25 let a lone buying 5 for $25 total.
Amazon Canada offers free shipping on orders over $25 so almost everything you buy with this deal will also get free shipping.
(Expiry: 31st December)