Amazon Canada: $80 Off WD My Book 6TB 3.0 Hard Drive - Now $250 & Free Shipping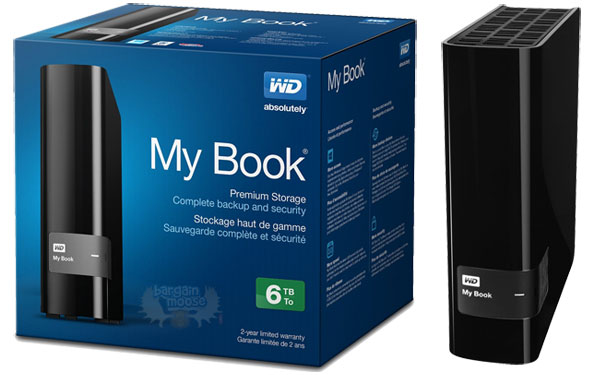 Want the most extra space possible? The WD My Book 6TB 3.0 hard drive is currently on sale for just $249.99 at Amazon, down from a $329.99 price tag. It also qualifies for absolutely free shipping, so you won't have to worry about any extra fees.
This WD My Book hard drive has a storage capacity of up to 6TB, which is the equivalent of 6000 GB or more precisely: a ton of movies and TV shows!
Such a large capacity hard drive isn't just for graphic designers or professionals in general as it can be used to store entertainment files and whatever else you want to keep off your computer without worrying about running out of space.
It also comes with complete backup with WD SmartWare Pro software, so you can rest assured that your files will be safe no matter what. There's nothing worse than storing all your files in one place, only to lose it all due to an accident or a simple malfunction.
Reviews
Short and to the point, here's the one and only review on this hard drive:
Shipped fast and works great.
At Newegg, there are only four review and all of them rated this hard drive 5/5 stars with comments like this one:
Even though slow, very useful for dumping large amounts of data for archival / storage purposes. Good for the average user to use for simple video editing and picture / music librarys.
This hard drive boasts a 3.0 connectivity, so I wouldn't expect this hard drive to be as slow as the reviewer above claims, especially since according to the description on Amazon's site, it's supposed to be "ultra-fast". It really depends on how much data you are looking to dump on it though because if you are storing a couple of gigabytes at a time, then you can definitely expect for it to take a bit more time than if you were transferring just a couple of files.
Price Comparison
Speaking of Newegg, here's how much this hard drive is going for at other stores:
(Expiry: Unknown)