8GB Microsoft Zune Now Down to $89.99 @ Amazon Canada!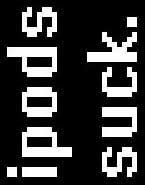 A few days ago, we had a hot deal on the 8GB Zune mp3 player for $99.99 @ FutureShop. But now, Amazon.ca have decided to jump on the bandwagon, and have price matched their Zunes to $99.99 as well. But here's a secret – this is what makes this an even hotter deal worth blogging about – new customers can use the Amazon coupon code to get an extra $10 discount on their mp3 player! This makes the price $89.99, including free shipping.
Instead of just plain old black, you can also choose from red and blue too. My choice would definitely be the red.
Just remember to apply the "MAPNEWNCSAVE" promo code at checkout.
If you want to read a bit about the Microsoft Zune, have a read of Simon's rather informative review over on the sync-blog. For you Apple fans, you might be interested to take note of this quote:
If you're a die-hard Apple iPod fan, the Zune is probably not going to win you over.
I've never had an Apple product… and I don't think I ever will.
Thanks for the sentiment  The Smoothie Fueled Rampage.