67% Off Monster DNA Earphones - Was $132 | Now $44 @ Amazon Canada (+ Free Shipping) (EXPIRED)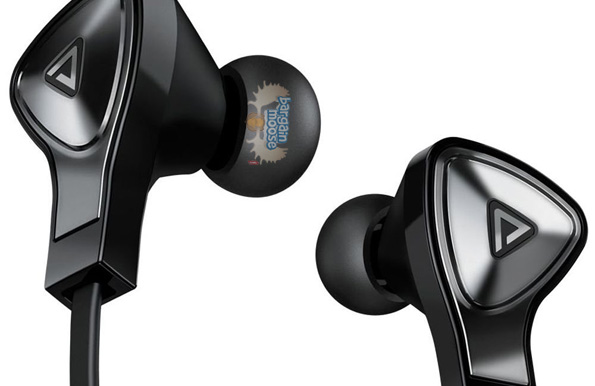 Originally, I was going to blog about a deal on the Monster DNA in-ear headphones at Chapters Indigo as they're on sale for $60 (reg. $120) but then I spotted these exact same headphones for an even lower price tag of just $43.65 at Amazon! Plus, shipping is free.
Everywhere, these earphones are referred to as both "headphones" and "earphones" but this is actually quite misleading as they don't go over the head and are indeed just earphones!
Here's a review:
Very very nice sound and great noise cancelling; used the standard fit ear plugs for 60 minutes of listening on iPhone and iPod. Quite satisfied so far with this choice. Just got it for 42 CAD and this price point it is a great value for money deal.
You can read about it on Amazon's site but interestingly enough, the first part of that review included a line about the packaging and it being a nice experience. Personally, I buy things for the products themselves and tend to discard the package unless I think that I may have a chance at re-selling it a year or two later but all in all, the packaging shouldn't be a reason not to get these earphones. In any case, according to the reviewer, the packaging is very much in-line with Apple's way of wrapping their products, so you can expect a nice box with cleanly wrapped earphones.
This bring me to my next point, these earphones feature Apple ControlTalk, which should provide you with calls that are crystal clear. Since they feature an Apple control, this also means that these earphones will be iPhone friendly. No worries if you have an Android device as these will work with those devices as well.
Another major perk is that the wire is tangle free. I can not even begin to tell you how many times I have pulled out my earphones only to shove them back in my purse in frustration as I waited for the subway.
At Best Buy, these same earphones are actually priced as high as $99.99! Here's a review I find on their site:
I just got them for the best price ever and white ones and the sound quality awesome mid nice high crisp lows deep and base is there definitely buy if looking for very very good quality in-ear headphones
(Expiry: Unknown)