4 Pack Panasonic Eneloop XX Rechargeable Batteries only $14.99 & Free Shipping @ Dell.ca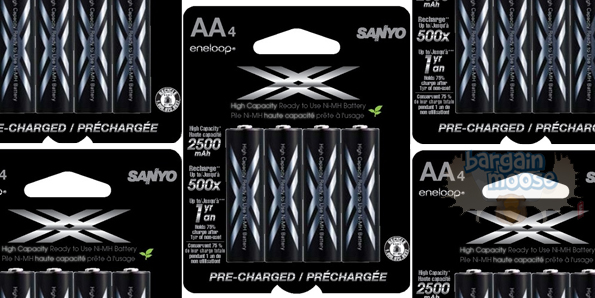 I've never seen these Eneloops before – a different product than the white-coloured Eneloops we usually post on Bargainmoose. These are a 4 pack of the Panasonic Eneloop High Capacity AA Ni-MH Pre-Charged Rechargeable Batteries, and they're down $10 – from $24.99 to only $14.99 with free shipping from Dell.ca right now.
In price comparing, I've found the same pack of batteries for $25 @ Amazon, $25 @ Henrys, $25 @ CanadaComputers, $37 @ Hookbag, but I can't see them at many other online stores.
One aspect that differentiates these high capacity Eneloops over regular batteries is their ability to hold their charge. It says that these Panasonic Eneloop XXs  hold up to 75% of their charge for one year of non-use… whereas regular rechargeable batteries apparently lose 1% of their energy each day. That's a fact that I was not aware of!
If you're interested in buying these Panasonic Eneloop rechargeable batteries, make sure that you read the specification, and also the specification of your battery charger, to make sure they will be compatible.
If you don't yet have a stock of Eneloop rechargables, then it's about time you got set up with one! Why not consider one of these starter packs – either the set of 8x AAs or AAAs for only $19.99 from Dell. Just note that those batteries are the 1,900 mAh model, which can be recharged up to 1,500 times. The newer generation of Eneloops actually have a longer life-span and can hold more charges… but for the average home user, these are totally fine.
It's such a good idea to have a ton of rechargeable batteries in your house. I find that the more children I have and the more the years pass, the more devices come in to my house which need filling with power. I have to juice up those talking teddies, musical pianos, light-up aquariums, flashing pirate swords, night lights, bubble machines; the list just goes on and on! It's amazing the amount of batteries I go through now, so I'm glad I've stocked up on Eneloops and never have to buy regular batteries any more.
(Expiry: unknown)