Starbucks Via Instant Coffee Guarantee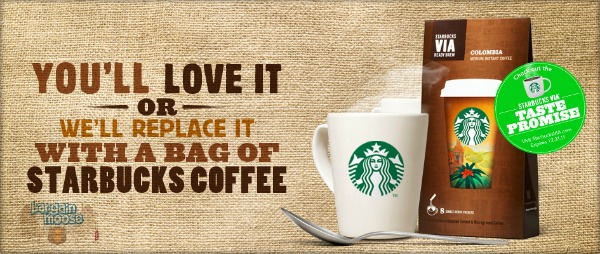 If you haven't yet tried the VIA instant coffee from Starbucks, here's an offer you might want to take advantage of. Until 31st October, buy any package of Starbucks VIA  and if you don't love it, Starbucks will replace it with a 12 0z bag of coffee!
You can find the packages of Starbucks VIA at your local grocery store or at Starbucks stores. There is a limit of one Starbucks VIA Taste Promise request per household per year. This offer is not valid in Quebec.
Proof of purchase will be required, so don't ditch those receipts. You should allow 6-8 weeks for delivery of your Starbucks House Blend ground coffee (12 oz/340g).
On the Canadian redemption form, it says that the offer excludes Starbucks VIA 3, 7, 10 and 12 count packs. However, on the email I got from Starbucks, it specifically says Starbucks Ready brew 3 Packs excluded, and makes no mention of any other sizes.
I think I'd like the VIA Iced-Coffee. But I'd be willing to try the other available blends, especially with this no risk guarantee! I definitely know I like the regular coffee!