Starbucks Canada: Half Off Frappuccinos During Happy Hour (May 1 To May 10)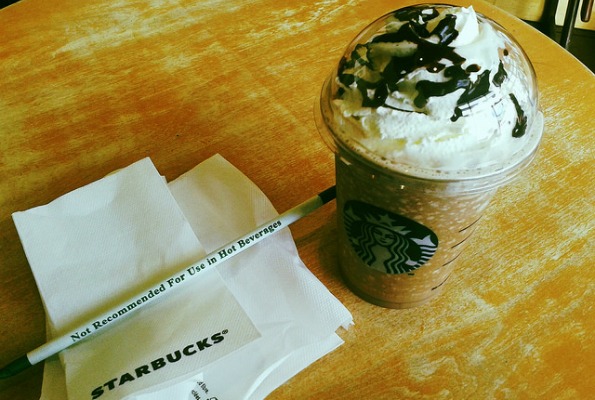 Head over to your local Starbucks location to participate in Frappuccino happy hour. You will receive half off your Frappuccino and have a delicious coffee treat to show for it.
Mmmm, spring is here in a delicious way. I have packed away my sweaters, and now Starbucks is encouraging me to switch over to creamy iced coffee treats from my regular cup. Head over to your local Starbucks chain between May 1st and May 10th to participate in Starbucks Frappuccino happy hour. Between the hours of 3pm to 5pm, you will receive half off your delicious frozen drink.
Perhaps you are running through the carpool lane until 5pm? No problem if you are a member of the Starbucks Rewards program. As an added bonus, all Starbucks Rewards members will be able to receive half off a Frappuccino for an extended hour from 3pm to 6pm. If that is not enough reason to join Starbucks Rewards, check out my previous post to learn a little more about the Starbucks Rewards program. It will be well worth your while to click on that post again. There is a dancing bird video included on that post.
It has been a while since I treated myself to a Starbucks Frappuccino. Winter was long and usually a Skinny Vanilla Latte or Skinny Carmel Machiatto found its way into my cup. The Frappuccinos are decadent, but you can order a lite version of several of them that will scale back the treat a little. The smallest light caramel Frappuccino and smallest light coffee Frapuccino are both listed on the under 200 calories menu. If you are having trouble deciding on your flavor, here is a sample of what you have to look forward to.
S'mores Frappuccino
Caffè Vanilla Frappuccino
Mocha Frappuccino
Java Chip Frappuccino
Strawberries & Cream Frappuccino (caffeine free!)
Vanilla Bean Crème Frappuccino- (caffeine free!)
There are many more available, so check your local location. If you are feeling extra decadent, try that new S'mores Frappuccino. It was reported recently in Time Magazine that this Frappuccino can be upgraded with a cookie straw that is lined with chocolate ganache. I think I just had a sugar crash right there in the middle of the sentence. According to The Telegraph, this decadent treat is only available in North America for Canadian and American locations. The ultimate question is can you drink the whole Frappuccino before you eat your cookie straw?
Image Credit: Elliott Brown
(Expiry: 10th May 2015)