Starbucks Canada: 25% Off During Home Brewing Event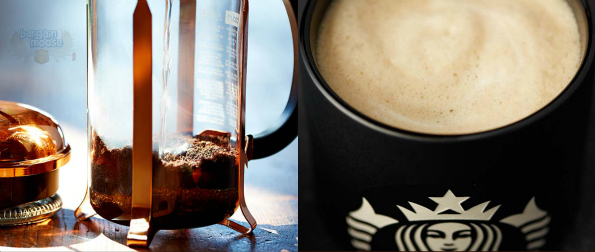 Starbucks Canada is offering 25% off select coffee, tea, syrups, and more during the Home Brewing Event.
Are you looking for a yummy daily coffee? Try out the Starbucks True North Blend that is on sale from $15.95, and is now down to $11.96 for 1 lb. This blonde roast tastes light-bodied and mellow. it is a perfect coffee for drinking throughout the day. Enjoy the subtle hint of roasted nuts.
Are you looking to perk up your morning coffee routine? Drop your regular roast and be bold! Try the Starbucks® Fairtrade Certified Italian Roast for a bit of a perk-up. Originally $16.95, a 1 lb bag of whole beans is on sale for $12.71. This is a bold roast with hints of caramelized sugar. Expect a sweet and roasted flavour. Maybe you can skip the sugar?
I can think of a myriad of uses for the yummy Fontana Caramel Sauce (63 oz) on sale from $29.95 that is now down to $22.46. Try it in your hot drinks, on cold drinks like milkshakes, and on ice cream! You could even drizzle it on the top of muffins, cake, and donuts. I think most my baked goods could be improved with a little caramel sauce.
As one reviewer says:
Like butterscotch, but more carmel-y. Great on ice cream. The pump is so easy and there's zero drip or clean-up-- a bonus. In coffee, it's just sweet enough, and the milk in the caramel gives enough smoothness that it takes the edge off of the cup, without requiring milk or other sugar.
16 out of 17 reviewers give this sauce a perfect 5/5 star rating.
If you are working with a pod brewer, then pick up a few coffee pods on sale. Now is a good time to try new flavours in the 12-count boxes. You always want to try a smaller amount of new flavours before purchasing bulk boxes. If you do not like the flavour, then you are risking so very little. The Caffè Verona Brewed Coffee Verismo Pods were $11.95 and are now on sale for $8.96.
My favourite Starbucks product is their Tazo Chai Tea Latte Concentrate that you mix with milk for amazing Chai Lattes. I used to buy this stuff and add it to milk - in a pot, over the stove. You slowly warm it up (careful not to boil) and can use a whisk to froth the milk a bit. Originally $5.75, the box is now on sale for $4.31.
Starbucks shipping is $7.95 and free on $75 or more.
(Expiry: 27th April 2015)