DavidsTea Canada: 60% off Select Blooming Teas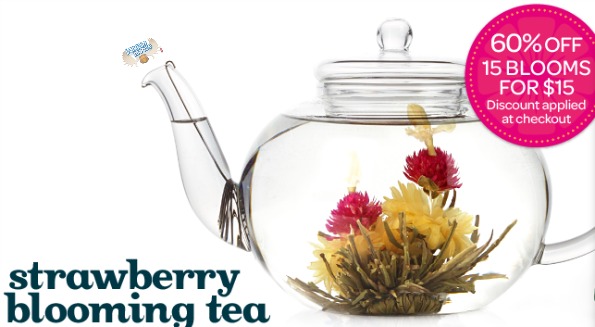 It is almost the time of year where I go back to making a pot of tea every day. It is getting a bit colder and tea is just wonderful to warm you up and keep you hydrated. DavidsTea has a selection of blooming teas on sale for 60% off right now.
Blooming teas are very cool. You drop the closed bud into the bottom of your teapot of water and it will open up, in effect blooming, over time in the pot. You can enjoy the absolute beauty of this when you use a clear glass teapot. Even if you have a regular teapot you can still enjoy the flavour. There are three blooming teas on sale:
Each pouch of blooming teas comes with 15 blooms. They regularly cost $37.50 but with the 60% off you will only pay $15 per pouch (15). That works out to a dollar a bloom which is a very good deal for these lovely blooming teas. The discount is applied at checkout.
Enjoy free shipping on orders of $50 or more.
(Expiry: Unknown)