David's Tea: Up to 50% Off Tea & More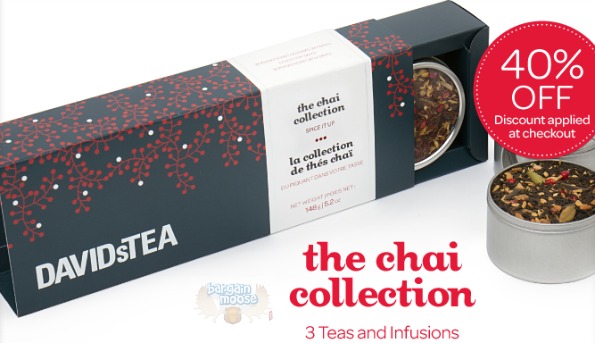 David's tea has some yummy deals on this month that are just waiting for you to drink them in. Save up to 50% on loose leaf tea, tea gift kits, cups, pots, and more.
The Chai collection is on sale for 40% off with the discount applied at checkout. Originally $19.50, this collection of three teas comes down to $11.70 in your cart. Enjoy the earthly flavours of:
Pure Chai (46g/1.6oz) - A classic, perfectly balanced chai with cinnamon and cloves.
Saigon Chai (52g/1.8oz) - Black tea with Saigon cinnamon, ginger, cardamom and peppercorns.
Coco Chai Rooibos (51g/1.8oz) - A spicy rooibos chai with cinnamon, ginger and a creamy hint of coconut.
The last of those three chai teas would be my favourite as cinnamon and coconut are two flavours that I quite enjoy.
There is a selection of teas that are on sale for 40% off their regular price including this Ceylon star 250g that was $37.50 and at checkout will be discounted to $22.50. It sounds incredibly delicious with the ingredients comprising of ceylon black tea, star anise, cocoa, white chocolate, coconut, and natural and artificial flavouring. The combination of chocolate, coconut and star anise would make the most lovely flavour profile. I really love David's Tea and have four different kinds of their tea in my cupboards right now. In fact, I am drinking a cup of their tea as I write this.
Get free shipping on orders of $50 or more. Given how bulky tea (and accessories) are, that is a great deal.
(Expiry: Unknown)