Zellers Canada Midnight Madness Sale (1st April Only)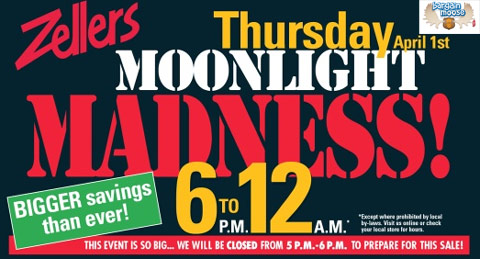 On the 1st of April 2010 only, Zellers Canada is having a "midnight madness" sale. For most locations in Canada, the sale will be happening from 6pm to midnight at your local store, except for those in Quebec, where the sale will be happening all day long.
There are various items on offer, for a short time only, so you'd probably need to be there at 6pm if you want to be in with the chance of grabbing a bargain.
The flyer above will show you more details, but here are a few items that stand out:
Sony DSCS2100 12mp digital camera was $139.99 now $99.99
Mongoose 20" bike was $129.99 now $79.99
Grillmate BBQ was $199.99 now $149.99
Sony blu-ray player was $249.99 now $149.99
Happy shopping!