Zellers Canada Holiday Shopping Event: 10% Discount On Everything In Store!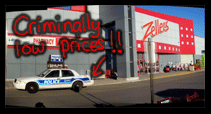 I got this deal by email from Zellers.ca yesterday!! If you'd like to save an extra 10% discount on everything in-store @ your local Zeller's, print and present this invitation and go to your local Zellers store on Sunday the 14th of December. The printable coupon entitles you to a 10% discount off all regular, sale, and clearance-priced merchandise.
There are some exclusions to the offer, you can see them on the printable invitation – I'm afraid there are too many for me to type out here!! They are the usual things, such as games consoles, tobacco, gift cards.
If you still haven't finished your Christmas shopping, this might be a great idea to head to your local Zellars store and pick up some last minute bargains!
Thanks for the pic Steve Brandon!