WOW - Panties For Under $2 @ GapCanada.ca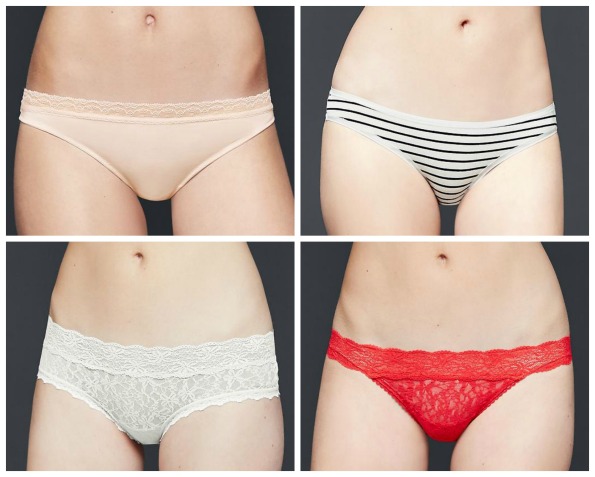 Every time Gap has a promotional code or sale, they always exclude panties. That's why I was super excited to see that they were having a panty sale! Select panties are on sale for $2.99 and up and you get an additional 40% off your purchase with a promotional code. That means that their prices actually start at $1.87! That's a great price for panties that were regularly priced at $12.50.
Here is the coupon you need to get a 40% discount off your purchase:
Coupon code: GAPWEEKEND
Discount: 40% off
Expiry: 9th January 2016 @ 11:59 PM EST
All of the panties in the sale are already reduced by 50% or more, which is already a pretty good deal considering Gap panties almost never go on sale! Add 40% on top of that, and you're getting some deals at more than 75% off on some of the styles. There are still lots of sizes left, which means there is something for everyone.
I'm not particularly picky when it comes to underwear: I'm looking for comfort. I think that is what you'll get when you buy panties at Gap. The reviews are very good on most of the underwear I've checked out, and I can't wait to try them to see what kind of quality they offer. Here are some of my picks (the prices are calculated with the 40% off coupon code):
Some of the panties on sale are already selling out. There are still lots of sizes left, but don't wait too long because the 40% off coupon expires tonight! There's 32 styles to choose from, which is a much better selection than what you'd see in the every day sale section. Don't miss out.
If you're like me, you buy everything clothing wise except panties. I don't like paying too much for something that might be lost in my sock and underwear drawer, never to be seen again. That's why I take full advantage of sales like these, so I can get it over with: buy a bunch of underwear and toss out what no longer fits me. I don't feel like underwear stands the test of time, my lacy underwear always falls apart that's why I don't want to spend too much on them.
Like usual, Gap shipping is free with a $50 minimum purchase. Luckily, Gap is having another sale event called The Great Winter sale, with items up to 60% off. Less than a week ago they added more items to their sale section. They are really getting rid of all their winter stock. While it would be difficult to buy $50 worth of underwear, I think everyone can find something else to fulfill that $50 minimum. If not, you can always pay the $8 shipping, which is one of the more reasonable delivery fees coming from online stores.
Check out our coupon
(Expiry for sale: Unknown)
(Expiry for coupon code: 9th January 2016 @ 11:59 PM EST)