Women's Skirted Twill Trench Coats Only $20 @ Old Navy Canada!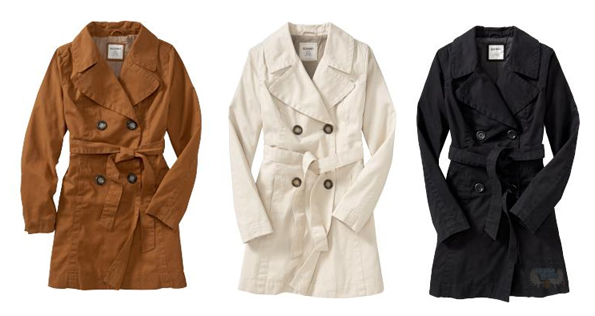 BUMP - these trench coats are now even cheaper - $28 when I first posted about them, now down to only $20! Updating the post below...
Over on our deals forums, mooser amandastar posted about this Old Navy coupon code which gets you an extra 15% discount on your purchases online. On seeing this, I've been browsing round a bit to see if there were any good deals. I've always kept an eye on the women's outerwear sale section as there are sometimes excellent bargains in there.
Today, they seem to have added quite a lot of items, and I spotted a hot deal on these Women's Skirted Twill Trench Coats. They were $59.94, and are down to $23.98. But when you apply the coupon code, they're down even further to only $20.38.
Don't forget to use the coupon ON15MORE to get the $20.38 price. I've pictured the trench coats in the image above. As you can see, you can choose from black jack, stone carving, or burnt ochre.  I'm really liking the burnt ochre.
I'm also liking the tie-belt waist on this coat, it's a slimming feature. This trench coat would look fantastic over some leggings and high boots. Or it would probably also look fantastic over NOTHING. Ha!
Remember that you can get free shipping when you spend $50 or more from Old Navy, The Gap, or Banana Republic.
(Coupon ends 2nd January 2012 @ Old Navy Canada)