Up To 30% Discount With Ice Jerseys Coupons!
It's customer appreciation week online @ IceJerseys.com! They've released a number of promotion codes for various discounts on sports items from their online store.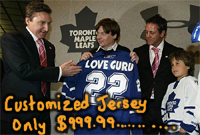 10% off anything with coupon code CAW10
Use promo code CAW20 for 20% off $100+
30% off $300+ with discount code CAW30
Alternatively, you could use the promotional code FREESHIP150 for free shipping on a $85 spend. Shipping within Canada is normally $11.95, but it appears that if you spend $85 or more, they do a shipping discount of $7.95, making the shipping fee only $4. The discount codes expire on the 16th of March, 2009.
I tested out the coupon codes on some items from their 50% sale section, and it worked there too! The promo codes also work on BallJerseys.com, their sister site.
If the prices show up in US dollars, make sure you click the Canadian flag towards the top right corner. Remember you can use Dealguild Canada for 6.5% cashback! Ice Jerseys Canada sell all sorts of items, from customized jerseys for St. Patricks Day, to retro NHL jerseys.
Hope the discount coupons save you a few dollars on your sports merchandise!