Up to $184 Off Skirts - Now $14.50 Each @ Club Monaco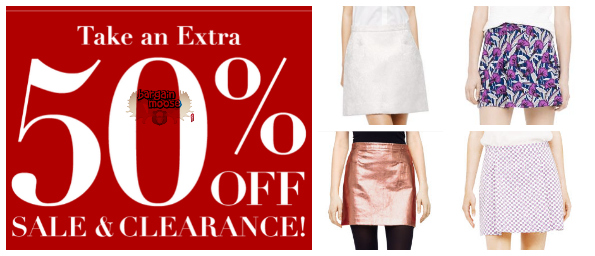 Club Monaco is throwing one heck of a sale right now with both their sale and clearance sections packed with discounts up to 80% off. I found a selection of skirts on sale for just $29 in the clearance section. Add on the 50% off coupon BOXING DAY and these skirts come down to $14.50 each.
Combine the sale price of the skirts with the coupon code above, and you can save up to $184 on just one skirt. I am talking about the Callie Jacquard Skirt that was $198.50 originally. It is on sale for only $29 and comes down to $14.50 after coupon. In total, you save $184 on this skirt alone. Unfortunately, it is only in stock in a size 12. It is unfortunate for other people, but not for me as I wear a size 12 in most brands.
Next on the list is the Nerice Rose Gold Skirt (also in a size 12) that originally retailed for $149.50. I think rose gold is one of the most beautiful metal colours and I much prefer it to silver or gold in terms of clothing. It is sort of the perfect marriage between pink and bronze. This is a mini style skirt so dig out some tights to go with it. On clearance for $29, the Nerice skirt comes down to $14.50 after coupon. You save $135 on this skirt.
The next two skirts have a much better size selection and you still save well over $100 on each skirt. The Valerie Skirt - Blue Summer Lily comes in sizes 10 and 12. The bold art deco style is best paired with a simple shirt and outlandish heels! Originally $129.50, pay just $14.50 after coupon. Now, the Valerie Skirt in Peony Diamond Foulard has sizes 4, 6, 8, 10, and 12 all in stock currently. It has the same cost structure as the lily version above but is not quite as bold. Whether you choose the first pattern or the second, you will save $115 on each skirt.
The Boxing Week  Club Monaco coupon code BOXINGDAY will take 50% off all sale and clearance items. This is a beautiful opportunity to stock up on quality clothing for a mere fraction of the original retail value. As I have showed you will the skirts below, you can score some amazing deals right now. The hardest part is finding what you want in your size!
Shipping costs $8 and is free on orders of $150 or more.
(Expiry: unknown)