Under Armour Canada: 25% Off Women's Battle Hoodie (+ Many More Sales With Outlet Summer Event)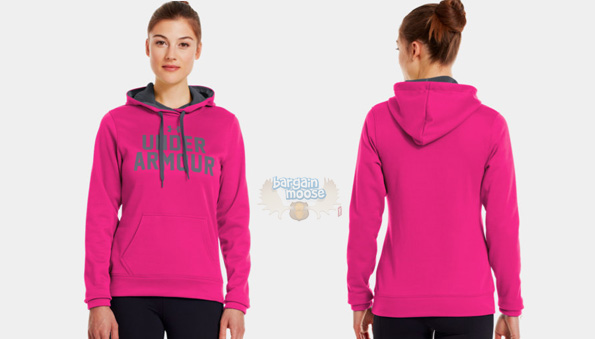 Under Armour's Outlet Summer Event is on and for a limited time, you can save 25% on the women's battle hoodie, among plenty of other great picks. Originally retailing for $64.99, it's now on sale for just $49.
Available in either pinkadelic, knock out (red) or aubergine (purple), this hoodie is one that I have actually been eyeing for a couple of months now but always held back from buying to avoid paying full price. I have heard great feedback about Under Armour's hoodies and the battle one in particular because of their comfortable fit and most importantly, the way they wick sweat. This means that instead of getting drenched with sweat as you take a run outside for instance, the sweat will simply roll off. I'm sure even this system isn't fool-proof but it's still a very nice material quality to have. Since it's 100% polyester, you can also expect it to be super soft and comfy, especially as evidenced by this reviewer.
I love my new hoodie and have nothing but positive things to say about it. It is soft and cuddly warm...almost like wearing a blanket...it is also breathable and cool though and great for everyday wear. Fabulous product I highly recommend!
Another quality that particularly attracted me to it is that it's machine washable and dryable without fear of it shrinking or drying unevenly.
Since shipping is only free on orders over $75, then I suggest you have a look at the other items in Under Armour's outlet section to avoid paying the $11.95 shipping fee. I'm considering getting my hubby the men's charged cotton storm battle hoodie on sale for $49 (reg. $64.99) because it has the same sweat wicking qualities as the women's battle hoodie along with the ability to repel water. Charged cotton also have the added benefit of drying quicker. I have to admit, however, that the men's charged cotton storm hoodie was the one that first caught my eye, even though it's priced slightly higher at $57 (reg. $74.99) but it's only available in either medium or extra large.