Tristan Style Canada: 67% Off Embroidered Bohemian Blouse - Now $20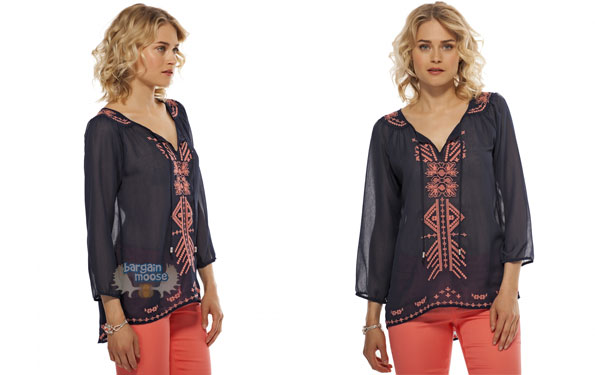 Looking to save on summer clothing? Now is among the best times to do so as the sales are abounding and if you shop at Tristan Style right now, you can save an extra 50% off the embroidered bohemian blouse. Pictured above, it was actually originally priced at $59, was then reduced in price to $39.99 and is now available for an even lower price of just $20.
I love love love this shirt. It taps right into the perfect summer fashion style with its relaxed and boho look. I particularly love the pink detailing on the front, especially since the shirt could so easily be paired with a pair of pink pants, like the ones worn by the model in the picture. It's also available in a white colour with black embroidery but I much prefer the darker one as it makes the pink embroidery stand out. Although the white one is available in all sizes, the darker one, however, isn't available in XL, though it is available in all of the other sizes.
It does look like it's see-through though, so it could either be worn with a black bra or perhaps a dark cami as well. I could also see this blouse being great to wear to the beach or the pool.
Shipping is at a flat rate of $8 per order, but if you add a couple of other items to your basket and reach a total of $100 or more, then your order will be shipped for free. The sale section has plenty of other great picks at low prices. In fact, I also spotted the printed linen jacket for just $35 (reg. $95). It's a shorter style jacket in a multi-blue patterned look, a one-button closure and also three-quarter sleeves. It would look great with a pair of slacks for a more laid-back kind of look but if you're looking for a more classical, but still unique look to wear to the office, for instance, then check out the one button fitted jacket. It's $60 instead of $155 and is available in either blue or black. Although this one also only has a one-button closure, it's in a slightly longer style then the linen one and the sleeves are also the full length.