Tees & More from $8 and up With 50% off Clearance Sale & More @ AEO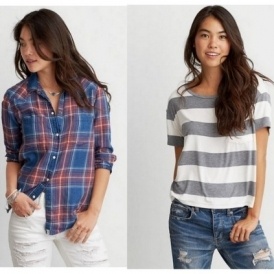 AEO is having a sale and they always cover the duty fees during checkout. (Prices are listed in CAD currency.)
You'll receive a 50% discount on selected regular priced items in the clearance section.
You can also browse through the regular selection of tops and receive:
40% off 4 select AEO tops
30% off 3 select AEO tops
20% off 2 Select AEO tops
I see fall clothing I wouldn't expect to see in a clearance area this early in the season. This AEO Plaid Boyfriend Shirt is available in 4 different color schemes, selling for $29.68, (reg. price $59.37.)
For casual wear that's a nice change from a one colour Tee, this AEO Soft & Sexy Sky High T-Shirt is absolutely perfect. It's priced at $16.47, down from $32.45. You can select from 4 various 2-toned contrasting colours.
Check out this AEO Cold Shoulder Pintucked Shirt, selling for$29.68, (reg.$59.37.)
I recommend that you spend over $50 USD (around $65 CAD) to receive free shipping. Otherwise you may be looking at shipping starting from around $20.