Sun & Fun Sale - Clothing From $5 Shipped @ Garage Clothing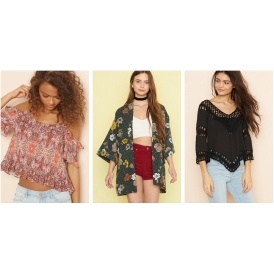 I have been trying to update my summer wardrobe, but I have this funny problem. You probably know it... I can spend oodles of money on my kids no problem, but I am so cheap when it comes to shopping for myself. I flinch at spending ten bucks on a top for myself, but I can't flinch at the prices Garage Clothing has right now. Summer stuff on sale from $5—plus they have totally free shipping right now.
In the warm months, I pretty much live in camisoles and tank tops. This Rib Sheer Cami is right up my alley—especially at this price. It is on sale from $14.95 down to $5. I just wish there were a few more colours to choose from. If you want a bit more of a vibrant colour, then you may like the Space Dye Racerback Cami which is on sale from $12.95 down to $5. Now, I know that isn't as great a discount, but the price is still wonderful.
Now, let's scroll down quite a bit. I am seriously hopeful for a cute dress but I know it won't be available for just five bucks. Dresses actually start at $29, which isn't all that bad at all. I like the Double Layer Dress with Back Trim which is on sale for $29 down from $42.95. So as you can see, there are several options available for you. Have fun shopping!
Until April 26th, shipping is totally free on all orders with no minimum purchase.
(Expiry: 26th April 2016 @ 7 AM)