Stag Shop Canada Promo Code: 28% Off Tighty Whitie Brief + EXTRA 43% Off Promo Code - Now $18.80 (NSFW)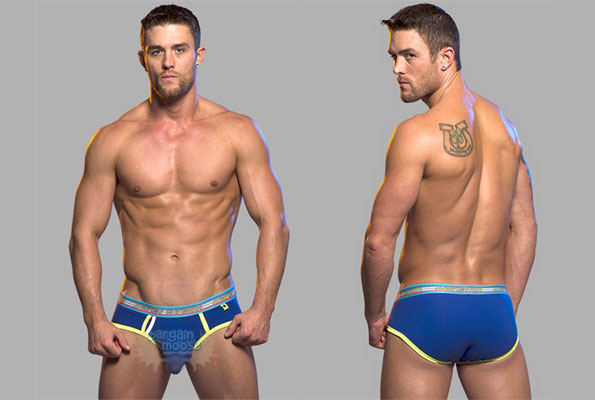 Yum? Yum indeed! Although not very suitable for viewing at work, it is very suitable for viewing from the comfort of your home on a Saturday... Stag Shop recently started selling the Andrew Christian line of men's underwear and right now, you can save a total of 60% on the tighty whitie brief and get it for just $18.80, instead of its regular price of $45.99. Keep reading to find out how.
In celebration of their 43rd anniversary, Stag Shop has released the yummy coupon code: STAG43 for a 43% discount on nearly everything site wide. The only exclusion is on reserved items.
In the case of the tighty whitie brief, they are usually priced at $45.99 but are on sale for $32.99. With the Stag Shop coupon code mentioned above, you can save an additional 43% and get them for just $18.80! Although the model is not included unfortunately, they're 95% cotton with 5% lycra and feature Andrew Christian's famous Show-It Technology that provides support in the most important area, all the while enhancing it.
Does the name "Andrew Christian" ring a bell? Then perhaps you saw him on Bravo's Millionaire Matchmaker. Ever since appearing on the popular show, he has been referred to as the Gay Hugh Hefner and so you can rest assured that he is definitely an expert on men's underwear. ;)
Plus, there are plenty more Andrew Christian underwear to choose from like the Almost Naked Quirk Boxer or Avigayil's favourite pick: the Almost Naked Arch Jock. Go ahead, I dare you to click the link and look at the backside picture. Both come down to $18.80 with the coupon code.
Don't forget that the STAG43 coupon code is applicable nearly site wide, so be sure to grab yourself anything else you might need from toys to lube... perhaps even some Fifty Shades of Grey inspired items, like the Greedy Girl g-spot rabbit vibrator. Since it's already on sale for $109.99 (reg. $145.99), it comes down to just $62.69 with the code. Surprisingly, I found this same vibrator for $129.99 at Pink Cherry and it's already out of stock -- so that's more than half off!
Shipping is free when you spend over $49. Have fuuuun!