Sportchek Canada: Outdoor Tech Turtle Shell 2.0 Rugged Shell Boom Box Was $130 | Now $80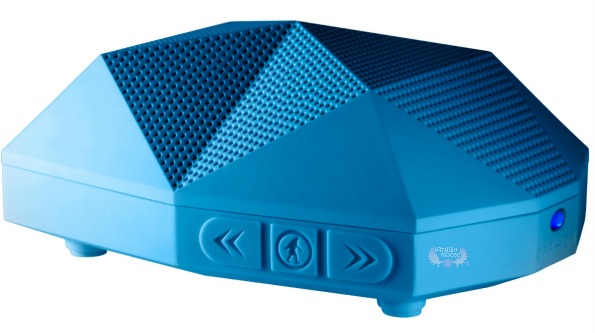 There are those times when you buy something in a rush to get a Christmas gift, only to realize that Boxing Day has so many good deals that you can't pass them up. Good thing the other stores have such great return policies, so consumer remorse can be a thing of the past. Although we already bought a portable speaker, this boom box is exactly what we are looking for. Get the Outdoor Tech Turtle Shell 2.0 rugged wireless boom box for only $79.99, with a regular price of $129.99. That is $50 off. This is a Boxing Day doorcrasher!
You can get either the blue or the black for this boombox. Not technically a wireless speaker, this is a boombox because it has two speakers and a passive bass radiator. You can wirelessly connect to your device of choice and you'll get 16 hours of playtime on one charge with the rechargeable battery. It also has a built-in microphone and controls so you can answer calls right on the boombox.
This item started as a kickstarter project, which I think is totally cool. Its backers and the media absolutely loved it and said the sound is phenomenal. What else is cool about it is that you can place it on any of its sides for directional sound. It is also shock proof, so when your child accidentally knocks it to the ground, you know its going to be ok. Also dust-proof and water-resistant, it means the beach won't phase this thing.
Shopping around, I could not find this low of a price on the Turtle Shell boombox, even in the U.S. Chapters had it but it is completely sold out. Amazon sells it from secondary sellers for inordinate prices. Apple sells it for full price.
Check out this review I got from Amazon.com, where it sells for $99 USD:
Perfect for biking outside as it is waterproof and dust-proof. Plus, if you drop it....it should be okay (haven't tried that yet.....knock on wood). Also, since it's winter I haven't had a chance to bike with it. But, used it around the hose for parties and conference caslls. Cool! If the sound was a bit more robust, I'd give it a perfect 5. It's nearly there, but could use a little more oomph and clarity. But, for $150 what an awesome gadget! On top of providing music, I can answer calls without even stopping and getting off of my bicycle. And, I can use it to run conference calls from my home office. I think it really deserves a 4.75.....since it is much closer to a 5 than a 4.
Shipping will be free on this unit if you use coupon code AFS4913, which gives you free shipping on orders over $49. I hope you all are checking the Boxing Day dashboard often to get the hottest deals before they sell out.
(Expiry: 29th December 2014)