Spier And Mackay Canada: 4 Handmade Shirts For $199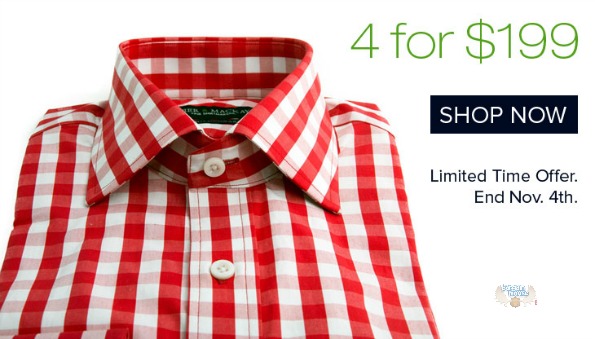 Spier & Mackay Canada are offering 4 of their handmade shirts for only $199.  Offer is valid only until November 4th 2012.
You can choose from different types of shirts in classic, contemporary and casual.
This Black Northwaite Classic Fit – Button Cuff has a regular price of $75.  This is a classically tailored shirt with a 3 1/8" collar point.  It features natural shell buttons, side shoulder pleats, button cuffs and handmade single needle construction.  The sizes available are 15 to 18 with half sizes included.
How about a contemporary shirt, like this Blue and Red Keldwick Stripe Contemporary Fit- Button Cuff that is $75.  This features a cut trim though the body and sleeve with darts at the back.  The collar is a 3" semi at the spread point with natural shell buttons and a flat clean back, button cuffs and French placket.
I found it hard to choose just one of the casual shirts as they all look amazing, but this Multi Check Harrison button Cuff definitely caught my eye.  This is handcrafted just like the regular dress shirts, but a softer touch.  The collar is 2 ¾" at the point with thick natural buttons and side shoulder pleats and also features a left chest pocket.
Choose 4 shirts out of any of these categories and instead of the regular price of $300, you only pay $199.
Shipping: Free on orders over $100.
(Expiry: 4th November 2012)