SPC Weekly Perks: 20% off at Tip Top Tailors and George Richards
Something for the men. With SPC cards. The SPC card carrying men!
For all those weddings, parties, and dances your partner is going to drag you to in the near and hopefully distant future, here is a break for your piggy bank on the appropriate attire.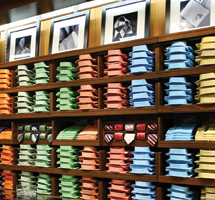 With your SPC and Student ID in hand (or maybe your partner's SPC and student ID in hand) stalk off to Tip Top Tailors or George Richards this weekend and make her dreams of seeking you in something more than jeans and a T come true!
This is an in-store promotion only, however suits are better tried on in person.
Offer valid from June 17 - June 20, 2010.
A note on a coinciding promotion: Tip Top Tailors currently is having a Suit Liquidation Event where all red tagged suits are 50% off and all spring and summer sportwear is BOGO. So this is a great time to buy!