Smart Set Canada: 62% Off Printed Romper - Now $15 (+ Extra 40% Off Plenty Of Other Sale Items)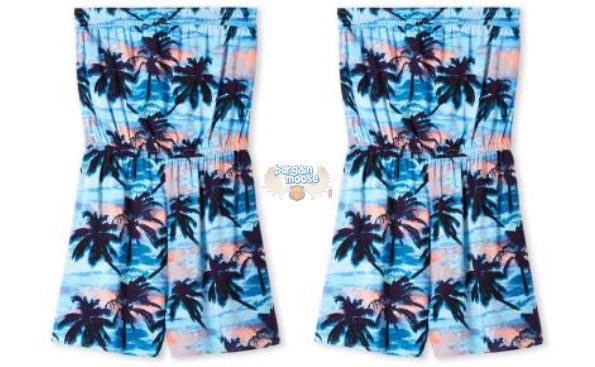 Sales on sales are great and all but what's even better is a sale on a sale on a sale! While quantities last, you can save an additional 40% on pink sticker items, which are essentially merchandise that is on clearance. Since Smart Set has both sale and clearance sections, we can only assume that clearance items have already been reduced once before, hence the "sale on a sale on a sale"! Among these pink sticker items, I found the printed romper with tube top on clearance for $24.99 (reg. $39), which means that you can get it for just $14.99. The discount will be applied at checkout.
Available in every size from XS to L (but not XL), this pretty little romper features a palm tree print. I have to admit that I not only fail to have any rompers in my closet, but I have actually never even worn one. However, I totally love this one as it's fun and looks super comfy. Plus, there is an opportunity to catch more of a tan while summer is still here as it's strapless, and even better is that it's 100% cotton.
Since shipping is only free on orders over $75 and a $7.50 will otherwise apply for orders under that threshold, I also suggest you check out the other pink sticker (clearance items). Among these, I found the striped cropped top on clearance for $9.99 (reg. $25). It further comes down to just $5.99 and it's definitely original as it features contrasting horizontal stripes, which are separated down the middle of the shirt. To make it even more original, it has a zipper in the back and could definitely either be worn with a pair of jean shorts or perhaps even an office skirt and blazer!
There are a couple more accessories that you can save even more on. I have been particularly obsessed with aviator sunglasses lately, and since I have been losing the only pair I have quite frequently (I blame it on mommy brain!), I'm thinking of getting these aviator sunglasses at Smart Set. I had purchased the ones that I wear every day for about $20 and they're only mock Ray-Bans, so paying just $3.59 with the additional discount for non-designer sunglasses is definitely pretty awesome. They were originally $12, are now on clearance for $5.99 and are only available in gold.
(Expiry: Unknown)