Sears Canada: Save On Your Size Up To 55% Off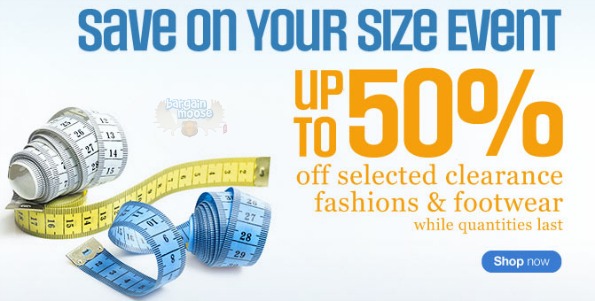 I don't know why this sale states up to 50% off when there are actually items that are reduced more than that.  Sears Canada has a great Save On Your Size Sale, with items up to 55% off the regular prices right now. Basically, you shop by your size, which is kind of cool.
This sale consists of men's and women's clothing and footwear, and all of it you shop for by size because it is all clearance.  I like this idea since often with clearance items, there are only certain sizes available.  I can't tell you how many times I have found an awesome item that my heart was set on and when I went to order it, they were out of my size.  This event eliminates that useless searching and heartache.
Here is what you can expect to find with this sale:
Outerwear up to 55% off
Tops up to 55% off
Bottoms up to 50% off
Footwear up to 55% off
Dresses up to 45% off
Dress shirts up to 45% off
As for the cost of shipping, Sears Canada shipping starts at $7.95 to anywhere in Canada. You can also have your order shipped to your local Sears store or outlet for just $3.95, which will save you some money.
(Expiry: While Supplies Last)