(Save 68%) Pink Halter Triangle Bikini Set only $5.99US & Free Shipping @ Lucluc.com!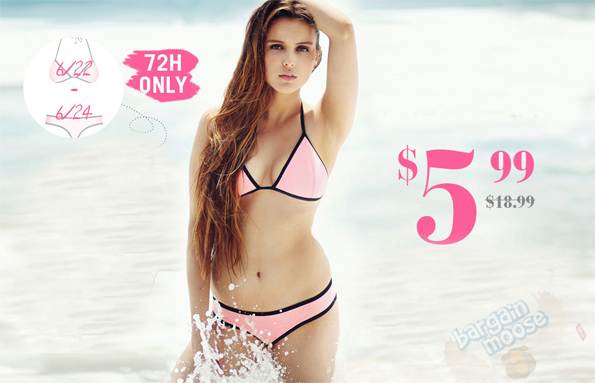 Have you ever heard of Lucluc.com? They're a US based site which we've just added to the many stores here on our free international shipping page. Lucluc sell a range of "party" wear clothing for women, all with free shipping to Canada. I wanted to introduce you to the store, as it's super to broaden your fashion horizons by shopping US based sites which offer free shipping to Canada. And for a couple of days only, Lucluc has a hot deal on this Pink Halter Triangle Bikini Set which was $18.99, and you can grab it for only $5.99US just now!
(When you click through above, you can opt to change the currency to CA dollars at the top right of the page. And note - the site seems very slow!)
The bikini set is available in all sizes; small, medium or large. At this price point, it's only available in the pink colour pictured above – if you change the colour to one of the other choices, the price jumps up to $13.99. So, for $5.99US – that's about $7.47CA – you're getting this cute bikini set with free shipping to your home. And as it's such a low value, you also don't have to worry about customs or duties. Any order below $20 will not be bothered with such trivialities. :)
This type of bikini set is ideal for throwing in your luggage if you're heading on a sun vacation this summer. I am sure you'll only have it on a few times over the summer…. So inexpensive bikini sets like this are great to mix and match. E.g. I have a set of plain black bikini panties which would go with this bikini top, as well.
If you're spending a bit more on the site, Lucluc has got deals on with a few coupon codes too:
30% off your first order with code 30%OFF (not sale items?)
35% off with code LVC35 (not sale items?)
$5 off $35 with code FRIEND5
$15 off $75 with code FRIEND15
$30 off $120 with code FRIEND30
Use one of those if you're placing a different order... all with free shipping!
(Expires: 24th June 2015)