Sale Items From $19 @ Lululemon Canada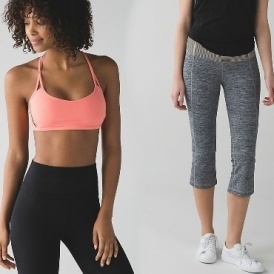 Have you checked out the Lululemon We've Made Too Much sections!? The sales there are awesome - really. I love Lululemon but I find myself cringing at the original prices. In the clearance section, you can get items for both men and women from $19 right now and shipping is even included for free. There is a catch though. These items are final sale, which means no returns and no exchanges.
Sport bras are so comfortable. I wear them for working out, when I am doing housework, on lazy days (and a lot more occasions as well). I find the Lululemon sport bras quite superior, actually. You can get the Lighten Up Bra on sale from $48 down to $39 while supplies last. It is only available in the sunny coral colour, but it is quite a popular choice anyway.
The Gather & Crow Crop pants have been discontinued. I was very sad to hear that when I went in to buy a pair from my local Lululemon store. It was immediately made all better when I found these Gather & Crow Crop II pants in the clearance section. They are on sale for $74 down from $88. These pants are only available in the dark slate colour.
Lululemon.com offers free shipping on all orders, with no minimum purchase. There is no telling how long these offers will last - sometimes they can sell out super quick.