Roxy Convertible Leather Jacket was $299 now only $111.75 @ Danier Canada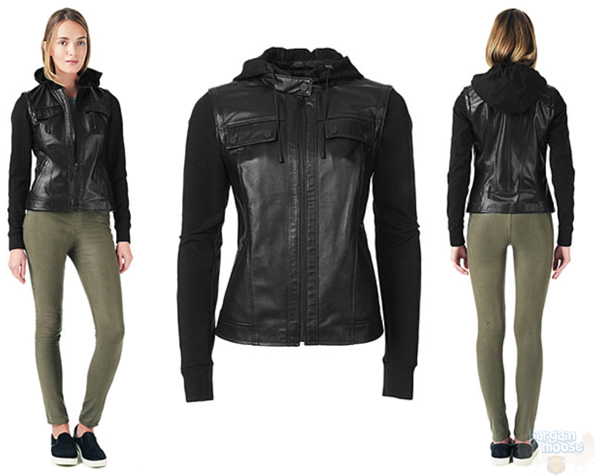 A few weeks ago in this Danier post by Avigayil, she mentioned the cutest little Roxy convertible leather jacket which was reduced to only $149 at their online store, half price. And this weekend, I've noticed that they have a super customer appreciation event happening, in which you can get an extra 25% discount on almost everything on site. The coupon code works on this leather jacket (pictured above), bringing it down to only $111.75!
Use the coupon code THANKYOU25 at the checkout to get this jacket at the price of $111.75 through to the end of the 15th of June 2014. The Danier promo code applies to many items on site of course, you don't solely have to apply it to the item above. Have a browse round and see if there's anything else that floats your boat. There are a number of other leather jackets at lower prices such as this Kiara canvas and lamb leather jacket which is down to $74.75, but there's only one size left in it. For the above Roxy jacket, there's a wide range of sizes available, lots to choose from.
I'm loving the style of the Roxy convertible jacket above, it looks very trendy. I especially like the fact that it has zip off hood and sleeves so it means you can wear the same piece in a variety of different ways, customising your jacket to how you feel or perhaps how hot the weather is!
Little basic leather jackets like this can last you a very long time, in fashion years. This leather jacket is nothing too outlandish that it would go out of fashion in a short time, and could be a staple jacket in your wardrobe for many years to come. I've got a little dark leather jacket which is very similar to this, which I bought about ten years ago… and it still graces my body from time to time.
Shipping fees
On the Danier website, shipping is only free when you're spending $150 or more, so the above leather jacket does not apply to get free shipping if you're just buying it on its own. So you have two choices here. One: pay the $6.95 shipping fee which is really reasonable considering you're saving an extra 25% on the jacket by using the above coupon code. Two: top your order up to $150 to get free shipping. Perhaps you could consult with a friend of family member and see if anyone else wants to make use of the 25% coupon code too, and place an order along with you, negating that $6.95 shipping fee.
(Code expires: 15th June 2014)