Roots Canada: Extra 20% Off Winter Sale (70% Off in Total!)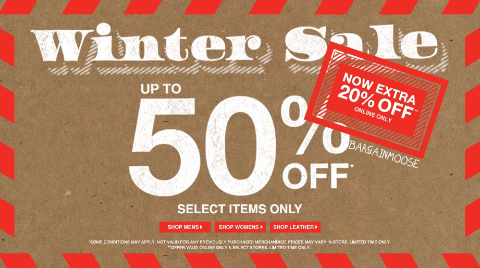 Roots Canada's Winter Sale is going strong, and you can get an extra 20% off (taken off in the checkout) now. Eyeing up something just just wasn't cheap enough for you before? Check it out now! Shipping is only free on orders of $100 or more, but shipping across Canada is rather cheap on orders below that, so don't be scared! The extra 20% off is online only, not in stores - sorry!
If you have a Roots Insider coupon you should be able to use it on top of this extra discount as well. I am very partial to leather (however they are sold out of all but 1 purse I want on sale), but they do have some very nice tops for great prices, like this Bat Wing Top originally $42, only $23.99 with the extra 20% off the sale price. The men's section is sporting this Osler Club Jacket, originally $128. only $71.99 after discount.