Roots Canada: 43% Off Chunky Cabin String Mitt were $42 now $23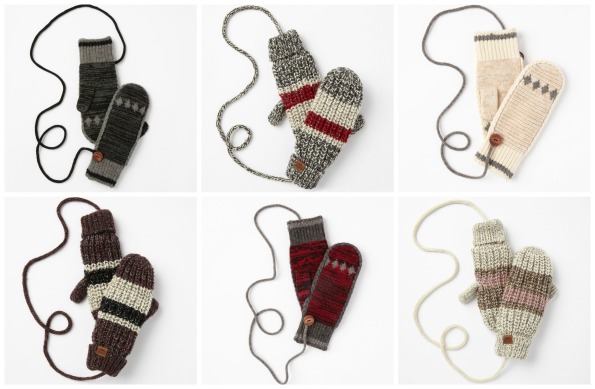 Roots always has my heart. They come out with the comfiest, cutest clothing and accessories. I'm never disappointed when I shop there. I spotted the Chunky Cabin String Mitt on sale, and thought I'd share them since they are now down to only $23.19. They were originally $42, and are now on sale at 43% off. The entire sale section has an extra 20% off, giving you this fabulous deal. The extra 20% discount is calculated in cart, no need for codes. Plus, if you spend $50 or more, shipping is free. Sounds good to me!

String mittens aren't only for kids, they are for big kids too! I don't know the last time I saw string mittens, but I still love them just as much as when I owned a pair about 15 years ago. They came back into style when I was a child and I remember my mom telling me about how she used to own a pair when she was younger! The mittens and string must be a winning combination if it has been around all these years.
In all seriousness, string mittens are super useful if you tend to lose things, like me. I swear I go through at least 2-3 pairs of gloves every year. At least if you lose these, you lose both mittens and not just the one, which seems to be way more frustrating! It's always a dilemma whether to keep the single glove or not, in case the other shows up. Of course when you find the matching glove, you've already tossed the other one! If this has happened to you, I feel your pain.
The chunky string mittens aren't the only string mittens on sale. I spotted some other styles that are just as awesome:
All the mittens I've listed above, including the Chunky Cabin String Mittens, are made with real wool in them. I can assure you that is not the case with all knit mittens out there. The Cabin String Mitts, are even made with 80% wool. That's a great ratio, and demonstrates the quality Roots stands for.
Shipping is free at Roots Canada if you spend more than $50.If you only want a single pair of mittens, it will cost you $4.50 for shipping.
(Expiry: Unknown)
Moosers, do these mittens make you feel nostalgic?