Ricki's Canada: 30% Off Dresses & $5 Shipping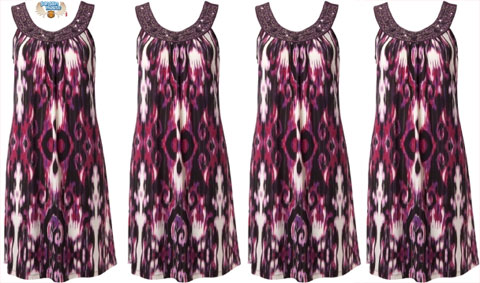 For a limited time, shop dresses for 30% off at Ricki's online and you can also get $5 shipping on ground orders when you buy a dress. That's a great deal on shipping since due to the chance of a Canada Post strike, they are shipping all orders by Purolator. Also, if you shop in store, all clearance items are 70% off the regular price.
Discount: $5 Shipping When You Buy A Dress
Coupon Code: DRESSJ7
Expires: Unknown
If you are looking for a very feminine dress, this Embellished Neck Print Dress is very flattering (pictured above). It comes in a magenta print for sizes M-XXL. Priced at $69.50, the 30% off discount is given when you add the dress to your cart, making it just $48.65.
One shopper says of this dress,
This dress, while fitting a little large is a must have for the summer holidays. It will fit in to just about any occasion. It flows nicely around the legs and the detailing in the neck line adds an exotic feel to the dress. Very comfortable and flattering.