Reitmans Canada: B1G1 50% Off Regular Prices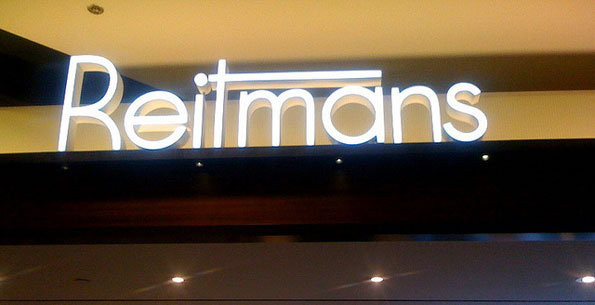 It's time to BOGO! At Reitmans right now, you can save 50% off the purchase of any second item at regular price.
Always shopping from the sale section of any store is fine and dandy, but sometimes an item catches my eye from the regularly-priced category and that's when it gets complicated. On the one hand, I would much prefer to wait until it goes on sale but then again, what if it never does or takes several months to do so? For those times that something really catches your eye, then buy one get one 50% off discounts are a great way to get what you want and still save money while doing so.
Even in the summer, I enjoy wearing sweaters because our home always feels like an ice box and the long sleeve open cardi for $50 would definitely look great, even to wear outside on a cooler day or in the evening. Made almost entirely of soft rayon, it's available in either compact blush (light pink) or black. I would prefer the former, especially if paired with the sleeveless printed blouse, which is $36.
Reitmans' sale is also a great way to get a new office outfit on a budget. You could get the Original Comfort ankle pants (reg. $36) and the v-neck tee (reg. $20) for just $46. To see the pants, simply check out the pants section at Reitmans and sort by price from low to high. Make sure to accessorize because both pieces are solid colours. Speaking of which, the buy one get one 50% off promotion also extends to accessories. In fact, a couple of belts qualify for this promotion, among which the reversible belt and the metal buckle belt caught my attention. Since each one is priced at $20, you could get both for $30 (or $15 each).
In the purse section, I also found the cross-body bag for $40. It comes in either dusty sky, taupe or black and would be perfect for the office. The only downside is that Reitmans doesn't clearly outline the dimensions of this purse but according to the description, it has multiple pockets, which is always a plus!
Since shipping is free on orders over $50, you're sure to attain this threshold with this promotion. If for some reason you don't, you can also check out Reitman's sale items for more great ways to save. In fact, the striped jeans shorts that I wrote about last week are still on sale for $6.99, which is 81% off their original price of $36.
(Image Credit: Dehghanr) (Expiry unknown)