Reitmans Canada: 81% Off Striped Jeans Shorts - Now $7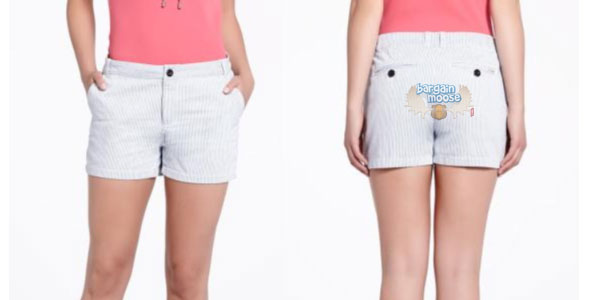 Reitmans is offering an additional 30% off all of its merchandise that is already on sale and right now, you can get the striped jean short shorts for as low as $6.99. They were originally priced at $36.
Summer isn't quite over yet and deals like these are pretty awesome, especially considering the original price on these shorts. Although they're not available in sizes 3 and 5, they are available in all of the sizes after that (from 7 to 17). Even better is that they're 100% cotton and would look great with just about anything.  They're advertised as being jeans short, but they look like they're made from cloth as they are essentially light in colour with vertical lines that are light blue in colour.
Do be warned that these are short shorts. If you prefer a longer style, then the city short may be the one for you. They're on sale for $10.49 (reg.$40) and come all the way down to the knees. Their colour is described as "coral compass" and it's a cross between orange and red, though perhaps more on the latter side. These could definitely be great to wear at the office, at least until the weather gets cooler.
Given how expensive a good pair of cotton pants can be, I'm actually surprised that these modern chino pants are on sale for just $10.49 (reg. $44) and that they're also available in most sizes and colours. They're mostly available in beige, atlantis fog, black, mocha brown or khaki. My personal pick would definitely be the beige ones and as it turns, they're available in all sizes for those!
There are also plenty of awesome deals on tops. If you're looking to get fit or already hit the gym regularly, then the Hyba racerback printed tank is definitely a great buy as it's on sale for $6.99 (reg. $26), though the only drawback is that it's only available in L, XL or XXL. You can get it in either a pink/ blue combination or vitamin C, which has an orange hue to it.
Very often, sales like these are accompanied by hard to reach shipping minimums or high shipping fees but luckily it isn't the case for this promotion. Although shipping isn't automatically free on any order, it is, however, on a more attainable minimum of just $50.
(Expiry: Unknown)