Reitmans Canada: 66% Off Sleeveless Printed Top (+ Extra 40% Off Plenty Of Sale Styles)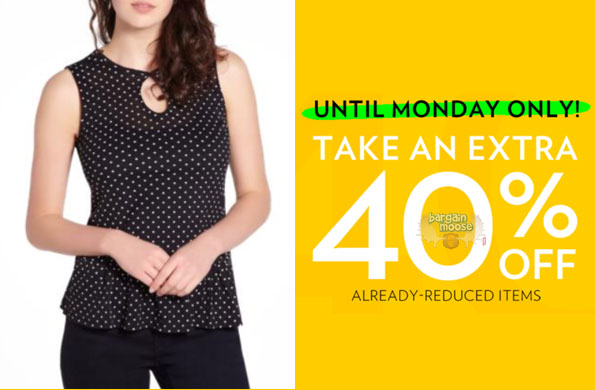 Reitmans has just discounted their entire sale section by an additional 40% off and for a limited time, you can save a total of 66% off the sleeveless printed top. It's now just $10.79, down from its sale price of $17.99 (reg. $32).
To be honest, I could have chosen just about any item in Reitman's sale category because there are plenty of great deals to be had. The only hitch is that sizes are limited for some items, but you can easily find all that are in your size by using the "narrow search" option on the left-hand side of the page. Keep in mind that all of the displayed prices will receive an additional 40% discount once you click on the individual items.
Tops like the sleeveless printed top are actually very much in fashion right now, especially when paired with a tighter or slim fit pant -- anything baggy just wouldn't work out very well. It features a polka dot pattern with a peplum at the bottom (an overskirt). I also really like that its high neckline is appropriate for any kind of office workplace but that its small opening at the front adds a touch of femininity. A necklace wouldn't particularly be needed with the opening, unless it's one with a small pendant on a short chain. It could even be worn with this dress skirt, now down to $8.99 from its sale price of $14.99 (reg. $40).
Among the other items in the sale section, I also found this t-shirt with a black & white photo on the front. It's now 77% off its original price of $30 and can be had for just $4.19. I hate overpaying for t-shirts and so paying just a little over $4 is definitely a good deal!
For all those of you who are sizes 3 or 9, I also need to point out the belted trench coat. It was initially priced as high as $85, then reduced to $29.99 and is now down to just $17.99! Even more incredible is that it's actually made of 56% cotton. I have a very similar trench coat and I absolutely adore it because just like this one, it features a classic style that can be worn with just about anything.
Shipping is free on all orders over $100.
(Expiry: June 30th 2014)