Reebok Canada: Women's Fitness Wings Graphic Tee - Just $10 (+ Extra 20% Off ALL Sale Items)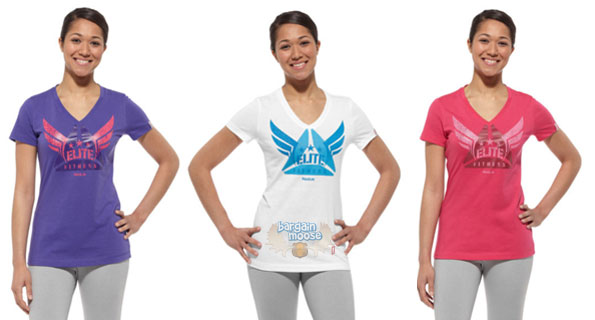 With summer in full blast, do you need a new t-shirt or two or three? Reebok is offering an additional 20% off all of its merchandise that is already on sale and you can get the fitness graphic tee for just $10 (reg. $25) for a total of 60% in savings.
This t-shirt comes in either fearless purple, white or candy pink. You surely can't go wrong with a t-shirt colour like "fearless purple"; it's just too bad that Reebok didn't assign other cool and inspiring names to the rest of the colours. It only had 1 review but with a rating of 4 stars out of 5, it's really quite self-explanatory:
Hi bought this in a medium, and expected it to fit a little more snug. Its OK that it doesn't, though! The seaming and print are nice quality, I think I'll wear it outside the box more than inside! I'm 5'3" 135lbs with a 36 bust. It fits slightly loose, but I think with a few washes it will be a little snugger.
This is going to sound silly but I hate it when stores display reduced prices. I find it much funner to add merchandise I like to my shopping cart and to have the price drop as though from a 100-foot cliff. I'm exaggerating, of course, but it's still pretty cool to see exactly how much you have saved. Luckily, this is exactly how Reebok has designed its newest promotion as well. All of the prices you see in the sale section will receive an additional 20% discount once they have been added to the shopping cart and you go to the checkout menu.
Women's clothing isn't the only ones available for an additional discount though, as there are plenty of great picks in the men's and kids' categories as well. Although it's only available in a large or extra-large, the men's fit survive long sleeve shirt is on sale for just $10 (reg. $25) and would be perfect for an evening work-out or for when the temperature drops down a little during the day -- after-all, August is less than three weeks away!
As for kids, I spotted the infants Reebok Ventureflex sandals, already reduced to $28 and which come further down to just $22.40 (reg. $40). They're not available in all sizes bit would nevertheless be perfect to wear out right now. There are plenty of other kids' shoes to choose from as well, though I suggest narrowing them by the size you're looking for from the drop-down menu on the left of the page.
Shipping is free on orders over $50.
(Expiry: Unknown)