40% off Today @ Urban Planet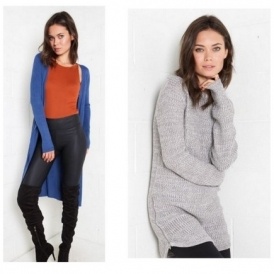 Urban Planet has 40% off sitewide today and you're bound to find a lot of excellent deals. There are some exclusions to this sale but as soon as you place the item in your cart you will see whether or not the discount is applicable!
Check out my Halloween costume headband. This is actually only 20% off total but it's cute and is $3.99.
It's cold enough today to merit a gorgeous sweater like this Longline side zipper sweater. It's $20.79 when you put it in your cart. There's 5 colours to choose from. This ribbed duster cardigan is the perfect accessory with anything you wear. It's $13.60 so you might want a couple of different colours.
What a great twist this lace up plaid shirt is from the ordinary. It's $9 after you put it in the cart and the regular price is $24.99.
I want a pair of pants that will go with anything and these zipper detailed ribbed jeanswill be great! They are on sale for $21.00 once you get them into the cart. You can choose black or khaki.
Urban Planet ships for free when your order $60 or more, otherwise standard shipping via Canada Post is a flat rate of $9.99