Orangefish Canada: Operation Black Friday Promo Code - $20 Gift + Free Shipping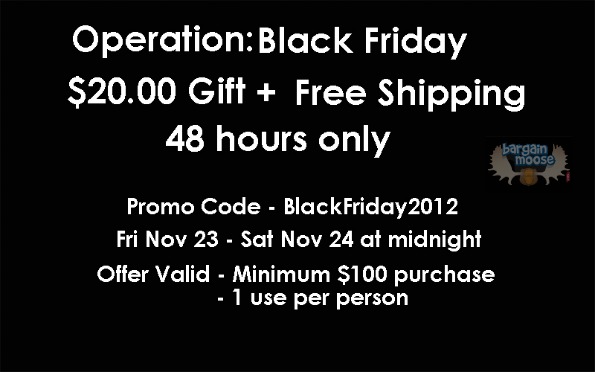 Orangefish Canada has a promo code for Operation Black Friday, giving you a free $20 gift and free shipping with a minimum purchase of $100.  Only one use per person is allowed and offer will end at midnight on November 24th 2012.
Coupon Code: BlackFriday2012
Discount: Free $20 gift and shipping
Expiry: 24th November 2012
There are some nice and fun things for gift ideas here.  I love this no 2 poopourri for $9.99.  What a great idea to keep in your bathroom.  This actually says: spray the loo before no. 2 and no one will ever have a clue.  This is actually a mix of mandarin, bergamot and orange enhanced by hints of peaches and berries.  That sounds like the perfect bathroom cover-up.  There are many more different scents available as well.
I got a kick out of these naughty but funny holiday cocktail napkins for $4.99 which would be great to have for company throughout the holidays.  They all make a great conversation piece and your guests would have a riot.
Here's a great little gift for someone.  This bacon cheeseboard is $29.99 and has a cute picture of an angry pig.  The board is made of beech wood and it measures 11.55" X 8.9".  The finish is a natural oil and will not impart flavour, odor or colour to food.  I love the little pig and the image is uniquely laser-ed so it will not fade.
This is probably one of the coolest websites I've seen for so many different items.  You'll be looking for a while, but control yourself, you'll want everything.
Shipping: Free on orders of $79 or more.