Old Navy: Earn Super Cash - $10 For Every $25 Purchased In-Store Only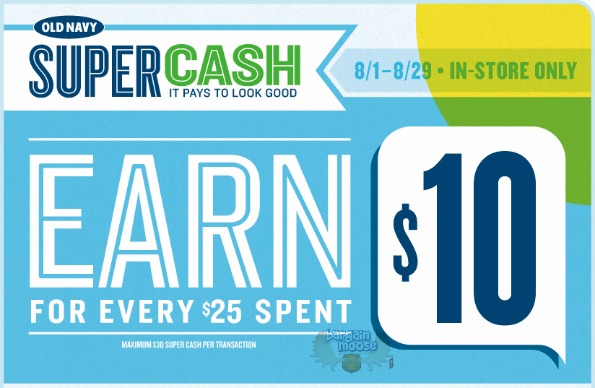 Old Navy Canada is giving away Super Cash coupons from August 1st to August 29th, 2012 in-store only. For every purchase of $25 or more, you receive a coupon for $10 up to $30, depending on amount spent. Limit per transaction is $30 coupon. All coupons are redeemable from September 7th to September 12th only. To redeem Super Cash, you must spend a minimum of $25 to receive your $10 savings. You may use only one Super Cash note per purchase.
More Terms and conditions:
Amounts remaining after purchase cannot be carried over.

Maximum amount earned per transaction is $30

Includes sale, regular and clearance items

Excludes gift cards, packaging and taxes

Any coupons not redeemed between 9/7/12 and 9/12/12 is forfeited
Super Cash Coupons available are:
$10 – for purchase of $25 - $49.99

$20 – for purchase of $50 - $74.99

$30 – for purchase of $75 or more
I was a little confused at first with this offer, but after reading through the instructions, I understand. You have to spend a minimum of $25 to get the $10 coupon in August and then spend another $25 in September to use the $10 coupon. So, in actual fact, you are spending $50 to be able to use a $10 discount. It's still a good deal, just makes more sense to me now.
It might be a good time to look at those sale items and depending on how many Super Cash coupons you have, make more than one trip.
These Women's plain-front capris were $32.94, now down to $20 and available in many sizes. I also like this Women's Oxford shirt that was $24.94, now $20, also with many sizes still available. As far as shoes, I am leaning towards these Women's Faux-Lizard pointed flats for $24.94 and finally after adding this Women's basketweave hobos purse for $24.99, I have spent over $75 and a $30 Super Cash coupon would apply.
Now, I would have to do this twice, once in August to get the Super Cash coupon and again in September to be eligible to redeem the coupon.
So, in actual fact, I am spending a minimum of $150 to receive the $30 savings. It probably would have been easier for them to just offer 20% discount, but this is so much more fun.
(Expiry: 29th August 2012)