Old Navy Canada: $20 Grab Bag Sale (July 9th ONLY)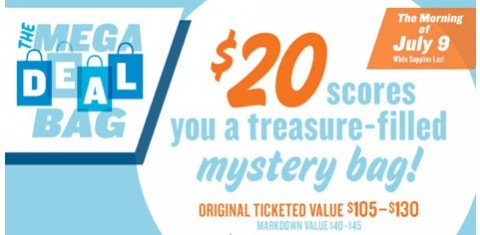 Old Navy Canada is having an interesting mystery promotion on the 9th July, 2011, in stores only. For $20 you can purchase a mystery bag filled with items originally worth $105-$130 (markdown value $40-$45).
There is a limit of 2 mystery bags per customer, while supplies last. Resist the urge to peek in your bag before purchase, all opened bags will not be sold.
With every bag purchase, you also get a chance to win a $1000 or a $50 shopping spree!
I'm guessing that they will have bags marked with the department (women, kids, toddler, men etc) and hopefully with the size as well.  I've always loved grab bags and $20 is not too much of an investment. Why not go together with a couple of friends and take your chances. Between a group it would be fun to have a clothing swap.
I would have no problem buying a couple of mystery bags full of kids wear. They don't really care what they wear and Old Navy's children's wear is all so cute.
(Expires 9th July, 2011)