Men's Wanika Falls Nylon Parka Was $295 Now $88.50 & Free Shipping @ Abercrombie & Fitch Canada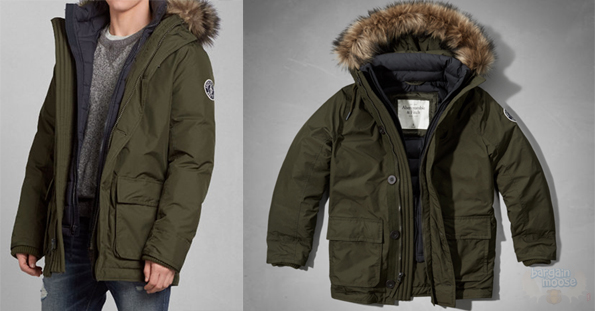 Over on Abercrombie.ca just now, there's a super sweet deal on the Wanika Falls Nylon Parka for men. Originally priced at $295, you can currently pick up this great parka for only $88.50 along with free shipping to your home!
Use coupon code 10687 to get the Abercrombie parka for the above price. It's a shame, but sizing is slightly limited. As I write this, that particular parka is only available in large or extra large. It's a good deal if either of those sizes applies to you.
It's also a pretty stylish jacket, and in my opinion it looks extremely warm as well. The faux coyote trim is removable, if that's not your style. This parka also has STORM CUFFS, a term I've never heard of before! These are, "a tight-fitting inner cuff, typically an elasticized one, that prevents rain or wind from getting inside a coat."
The aforementioned coupon code actually applies to anything on site – you'll get a 25% discount on anything, plus free shipping when your order totals $50 or more.
More Men's Outerwear Deals
If the above parka doesn't float your boat, have a browse round the Abercrombie & Fitch site, as there are a few more options that might interest you more. For example, this man's Panther Gorge Parka is also $118, therefore down to $88.50 when you apply the above Abercrombie coupon code, also with free shipping too.
And while it's not such a dramatic discount, this Newcomb Lake Packable Puffer Jacket was originally priced at $170, but with the coupon code you can get it for $82.50 with free shipping. It's another one to consider.
For something a little brighter, this A&F Technical Weather Warrior was priced at $215, and it would be $80.62. It's only available in large though.
Some Women's Outerwear Deals
For ladies on the hunt for a bargain, my interest was piqued by this Ainsley Waxed Jacket which was originally priced at $275. You can now pick it up for only $82.50 with free shipping too. I'd love to buy this one myself, but cannot justify buying any more jackets!
For something a little more forward-looking (e.g. for the Spring), this Molly Nylon Parka was priced at $130, but it would be only $68.25!
Regarding shipping, as mentioned above, it is free on orders over $50. A&F ship from the US, but all taxes and duties are included at the checkout.
(Expiry: unknown, code expires 19th January 2015)