MEC: 25% Off Continental Town And Country Bike Tires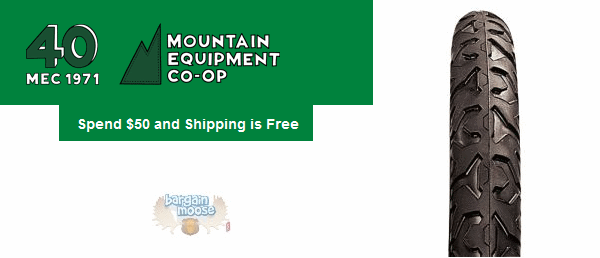 I recently sold my car and moved to Vancouver where I've become a cycling fanatic. As any cyclist knows, having the appropriate tires for biking conditions is paramount. But Vancouver has a mix of paved paths and some of the best trail riding our country has to offer. Tires that roll easy on pavement, aren't necessarily the best for off-roading, where you need more grip. Enter the Continental Town and Country to give you the best of both worlds in one tire.
I paid $50 for mine several years ago and now you can get them for $30 (Reg $40) from Mountain Equipment Co-op.
Here's what one reviewer had to say about them:
I am extremely happy with this tire. On their website, Continental even boasts that Police bike units all across the globe use this tire. Strong, Durable and versatile. How could you go wrong with this all-around tire? I look forward to the thousands of kilometers this tire can roll to. (MEC does have the cheapest price)
I've personally ridden on these tires for almost 1000 kms, through mud, rain, a little ice, on long flats and steeps hills, and even through broken glass and they still look new and have never been punctured.
Shipping is free if you spend at least $50, so a pair of these tires won't cost you anything to ship.