Lids Canada Coupon: Extra 50% Off Clearance - Kids' Tees from $2.50!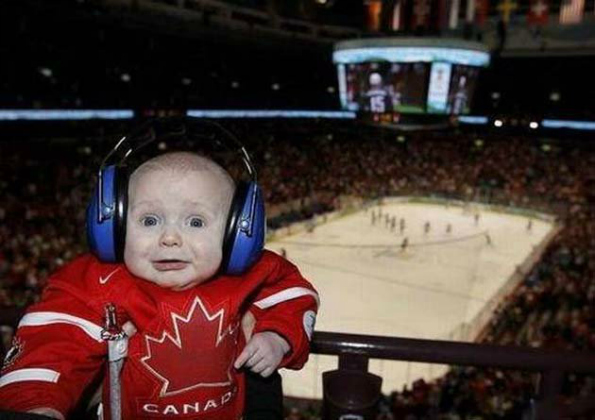 Lids Canada is your Canadian destination for hats (lids) and sports memorabilia including t-shirts, cell phone cases, and more. Right now, Lids Canada is offering an extra 50% off clearance items with the following coupon code. Items start at just $1 in the sale... so after coupon they start at just 50 cents.
Click here to shop @ Lids Canada now
Coupon Code: 50SALE
Discount: 50% off
Expiry: Unknown
Want a hat deal that will blow your socks off? Check out this Red/Black 210 Flexfit Home Run. It was $20.99 and is now just $3. After coupon code, pay $1.50.
For female football fans, try this NFL Super Bowl XLVII Womens Pride Playing III T-Shirt on for size. Originally $40.99, it is on sale for $5. After coupon code, get this new, quality-made shirt for just $2.50. Pretty much all sizes are in stock as well. While we have a different tournament up here, the Super Bowl is the most watched sports program on television each year - most Canadian football fans I know watch it.
I am most excited about the selection of youth shirts on sale. Kids can be expensive to clothe but now your little sports fan can run around in team-jersey inspired tops. Most are for individual players in the MLB, NFL, and NHL - which would totally depend on personal taste and what teams you root for.
This Ottawa Senators "Chris Neil " Outerstuff Canada "NHL CN Infant Whirlwind T-Shirt" is on sale from $20 down to $5 - then becomes $2.50 after coupon. There are a ton more tees for this price, but most are for teams in the USA.  I did found a few more generic t-shirts. This Super Bowl XLVIII NFL Youth Girls Raglan was $36 and is now $5. After coupon, pay $2.50. The Super Bowl is the most watched sports program on television each year!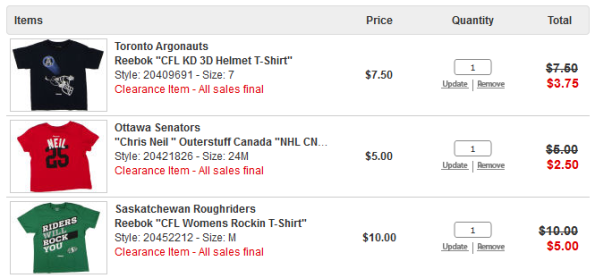 There is an entire CFL clearance section if you are trying to narrow it down to north of the boarder. The Toronto Argonauts Reebok "CFL KD 3D Helmet T-Shirt" is on sale from $20 down to $7.50. After coupon code, this shirt comes to about $3.75. There are a couple other shirts for the same price including CFL Youth Home Run T-Shirt and CFL Youth Huge Logo T-Shirt both for the Toronto Argonauts.
Now that I live in BC, I usually root for the BC Lions. However, I used to cast my support behind Saskatchewan. This Saskatchewan Roughriders Reebok "CFL Womens Rockin T-Shirt" is on sale from $28 down to $10. After coupon code, score this women's t-shirt for $5.
This is the merchandise sale that every fan dreams of! Score yourself some shirts, hats, and more for your favourite Canadian hockey and football teams. Receive free shipping to store, free shipping on $60 or more, or pay $9.99 flat rate.