Le Chateau Canada: Sweaters Starting @ $19.99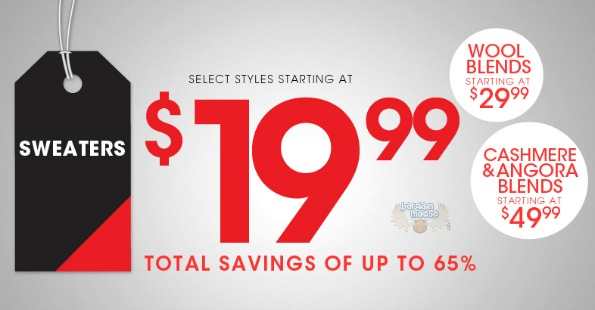 Le Chateau Canada has select sweaters on sale starting at $19.99, a total savings of up to 65%.  Sale is valid on select items only and will be for a limited time only while supplies last.
I instantly fell in love with this Crochet V-Neck sweater that was $49.95 and is now only $19.99.  Unfortunately, you have to be an extra small or small to be able to order, but it is so beautiful.  This is a crochet sweater with camisole attached, a v-neck, cap sleeves and straight hem.
I also found this elegant Boucle Cable sweater (search for Bouclé Cable Sweater) that was $49.95 and is now $29.99.  This is available in many colours, although I really like the green and rust, with sizes are XXS to XL.  This features the split turtle neck with long sleeves and straight fitted hem.
This Viscose Blend Ruched sweater was $35 and is now $19.99.  The sweater is quite flattering with a v-neck, long sleeves, straight hem and fitted resting at hips.  It is only available in black, but sizes are from XXS to XL.  I love these fitted looking ruched sweaters, they are quite figure-flattering.
As all of the sales at this time of year, you have to be careful of sizes and colours available. I also noticed that there are not that many sweaters listed at $19.99, but prices are still not too bad.
Shipping: Free on orders of $150 +
(Expiry: Limited time only)