Le Caniche Noir Canada: Houndstooth Tie Was $30 | Now $10 + Free Shipping!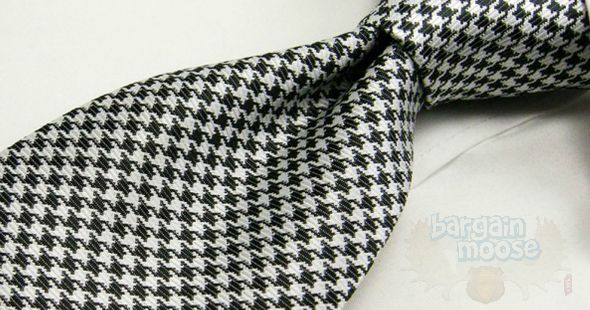 I had personally never heard of Le Caniche Noir before, but I ended up impressed while browsing this nifty little retailer online. I found this awesome Houndstooth Tie on sale from $30 down to just $10. Plus, LeCanicheNoir.com offers free shipping on all orders with no minimum purchase.
Houndstooth is a pretty popular pattern, and if you had a houndstooth tie then I am sure you could wear it with almost any suit and dress shirt combination. The Houndstooth Tie from Le Caniche Noir will only cost you $10, which is much nicer than the original price tag of $30. This awesome tie would make a great gift for your dad or the hubby. I threw two of these ties in my cart, I am sure they will come handy come Christmas time or even if I forget to get somebody a birthday gift. I am pretty forgetful! I may even forget that I have these ties stashed aside somewhere for occasions where I forget to buy something.
I took a look through our beloved world wide web to price compare this Houndstooth Tie from Le Caniche Noir and while there are plenty of Houndstooth Ties for sale, none are priced this low. Mind you, some of the ties I found were made of silk and costing upwards of $50. This particular Houndstooth Tie is made of 100% polyester, so it will be pretty easy maintenance. I think this Le Caniche Noir tie is great and a perfect price too. Don't you? Just take a look at what some of the other Canadian retailers sell Houndstooth Ties for:
One of the great things Le Caniche Noir Canada offers is free shipping. You can spend as much or as little as you want, but you will always get free shipping. That makes for some great discounts when you hit the sale section at Le Caniche Noir online. They have plenty of items at great prices for both men and women. There are some great jackets and dresses to be had, so if you're not fond of the tie then I would definitely take a browse through the other items on sale. There is even a Houndstooth Bolero if you want to match your hubby in his new Houndstooth Tie. The bolero was priced at $149 but is on sale for $52.
So what did you guys grab from Le Caniche Noir?
(Expiry: Unknown)